Last Updated on September 21, 2022
Today, we're going to be answering the question: are cinnamon twists gluten free? And taking a look at whether you can buy ready made gluten free cinnamon twists, as well as how to make your own. Cinnamon twists are the perfect way to start off your morning, or as a sweet snack to get you through the day. However, you'll likely already be aware that most pastry based baked goods contain gluten. But are cinnamon twists typically gluten free? Let's take a closer look.
What Are Cinnamon Twists?
You may know cinnamon twists better as French twists, or cinnamon swirls. However you know them, they all refer to the same treat. A puff pastry that has been covered in cinnamon and sugar. They also sometimes have a cinnamon cream filling. They can either be soft or crunchy, but one thing's for sure – they're absolutely delicious.
You'll probably have seen cinnamon twists available at fast food restaurants such as Taco Bell. This snack is highly popular, and a fan favorite.
Ingredients In Cinnamon Twists
The ingredients in cinnamon twists can vary depending on which recipe you're following. However, the most common ingredients you'll find in cinnamon twists are:
wheat flour
yellow corn meal
rice flour
salt
oil
yeast
eggs
cinnamon
sugar
butter
Nutritional Information Of Cinnamon Twists
If you're curious as to the nutritional value of cinnamon twists, a serving of them at Taco Bell contains the following:
Calories: 170
Fat: 6g
Sodium: 210mg
Carbs: 27g
Dietary Fiber: 1g
Sugars: 13g
Protein: 1g
Are Cinnamon Twists Gluten Free?
Unfortunately, cinnamon twists are very rarely gluten-free. This is because the pastry itself is usually made from wheat flour. Wheat is a gluten-containing grain, and can not be consumed when following a gluten-free diet.
The cinnamon twists you'll find at your local grocery stores, or in restaurants are highly unlikely to be gluten-free, but that doesn't mean there aren't options for us out there! If you're craving gluten-free cinnamon twists, we've got you covered.
Gluten-Free Cinnamon Twists
While there aren't too many options for gluten-free cinnamon twists ready-made, I have one favorite that is my go-to for any pastries I'm craving.
Manna Dew
Manna Dew is a completely gluten-free bakery that ships to the UK and US. From croissants to pain au chocolat, to cinnamon swirls – they have a huge selection of baked goods. Their Gluten-Free Cinnamon Swirl is quite pricey, but it's worth every cent.
Gluten-Free Cinnamon Twists Recipe
The quickest way to fulfil your craving for cinnamon twists is to make them yourself! They're relatively easy, and nothing beats a homemade pastry, fresh from the oven. The recipe we're looking at is inspired by one from Betty Crocker. Let's take a closer look.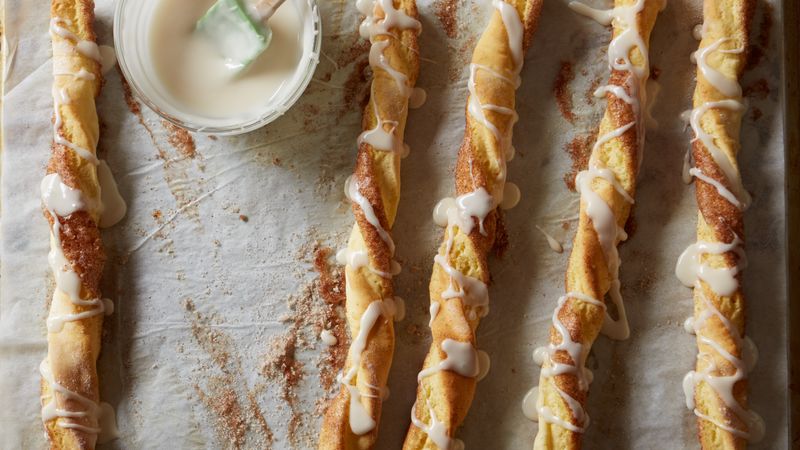 Ingredients
The ingredients you'll need for this recipe are:
for the Twists:
2 1/4 cups of all purpose gluten free flour blend
1 tablespoon of fast-acting yeast
1 1/2 teaspoons of xanthan gum (omit if in your flour)
3/4 teaspoon of salt
3/4 cup of milk
1/3 cup of granulated sugar
3 tablespoons of butter
1 teaspoon of cider vinegar
2 eggs
1/4 cup of granulated sugar
1 teaspoon of ground cinnamon
2 tablespoons of melted butter
for the Glaze:
1 1/3 cups of powdered sugar
2 tablespoons of milk
1/4 teaspoon of vanilla extract
Step-by-Step to Make Gluten-Free Cinnamon Twists Recipe
Now all you need to do is:
Step 1: Prepare
Gather all of the ingredients you need for this recipe. Grab a bowl and add your flour, yeast, xanthan gum (if needed) and salt. Mix well and leave to one side.
Step 2: Make the Dough
Add the milk, 1/3 cup of granulated sugar and 3 tablespoons of butter to a microwave bowl and microwave for around one minute. Now add the eggs and vinegar and mix well. Slowly add the bowl of dry ingredients until combined. Mix for a few minutes and leave to one side. In a separate bowl, add the cinnamon and 1/4 cup of sugar.
Step 3: Prove
Line baking sheets with parchment. Lightly flour a work surface and roll the dough into a square (around 10 inches). Spread the butter over the dough and dust with cinnamon sugar. Using a knife, cut the dough into strips and gently twist and place on the sheets apart. Cover and leave for around 30-45 minutes.
Step 4: Bake
Preheat your oven to 375F. Place the twists in the center of your preheated oven for around 15-20 minutes. When you place a toothpick in the center, it should come out clean. Remove from oven and leave to cool.
Step 5: Glaze
Add the powdered sugar, milk and vanilla extract to a bowl and mix well. Pour the glaze over the twists. Serve and enjoy!
Conclusion
I hope this has helped to answer the question: are cinnamon twists gluten-free? And give you an idea of how to make your own homemade pastries, as well as where to purchase them premade. We can only hope that in the future there are more options for us when it comes to gluten-free pastry.
Do you have any tips or tricks when it comes to making gluten-free cinnamon twists? If so, please feel free to let me know in the comments below. Sharing is caring!
FAQs
Do Cinnabon Delights Have Gluten?
Unfortunately, Cinnabon Delights contain gluten and should not be consumed when following a gluten free diet. However, there are plenty of gluten free copycat recipes which taste just as good! 
Do Taco Bell's Cinnamon Twists Have Gluten?
Taco Bell's twists do contain gluten. Unfortunately, most of the food from Taco Bell is not suitable for those following a gluten free lifestyle. 
Are Cinnamon Twists From Taco Bell Vegan?
Yes! While they weren't created to be on their vegan options, they are accidentally vegan and you can order them as they come. 
Are Cinnamon Twists Made From Noodles?
Cinnamon twists from Taco Bell are often mistaken for rotini pasta or noodles because of their appearance. However, cinnamon twists are often made using a special ingredient called duros.
Hi, my name's Zoë. I'm 28 years old and live in London, UK. I work full time as a freelance writer and critic for West End theatre. Writing has been a passion of mine for as long as I can remember. I spend most of my free time at the theatre, or at conventions. I'm married to the love of my life, and live in a small apartment with my fur baby, Lillie. I run two of my own blogs: No Safer Place and Stage to Page: both of which have won awards. I also have a YouTube channel where I talk about all things stagey.