Last Updated on April 1, 2022
Today, we're going to be looking at where to buy gluten-free pita bread and our top picks of our favorite brands. I've been lucky enough to try all of the brands we're looking at today, so I can't wait to get rating them! When I first received my diagnosis, I was worried I'd never be able to eat bread again – but that is definitely not the case!
While pita bread brands aren't as common as other types of bread, there are several options for us and they're easily accessible. But first, what is pita bread and what ingredients can you expect to find in pita bread?
What Is Pita Bread?
Pita bread (sometimes known as pitta depending on where you're from) is a round flatbread. It's most commonly eaten in the Middle East and the Mediterranean. It's a type of leavened bread, which means that it contains yeast. Pita is often pale in color and almost spongy in texture, as it's extremely light.
Ingredients In Pita Bread
Depending on where you buy your pita, the ingredients may vary slightly. But the most common ingredients in pita bread are:
flour
water
yeast
salt
oil
Some pita breads come with grain or seeds in the dough, to give the pita more texture.
Gluten Free Pita Bread Brands
While there isn't a huge selection of gluten-free pita breads available, we can hope that more make their way onto our shelves soon. However, this is a round-up of my favorites.
Against The Grain
Against the Grain is an incredible certified gluten-free company, which means their products are as safe as can possibly be. Their Lebanese-style Pita Bread is exceptionally thin and is very versatile. You can use it for sandwiches, snacks, appetizers – even desserts.
Their pita bread is made using tapioca starch and buckwheat flour. Despite the name, buckwheat is completely gluten-free! You can find this soft and light pita bread for around $5 for a pack of 6.
BFree
BFree is my go-to brand for pita bread. Mainly because they have an amazing 3 different varieties of gluten-free pita bread to choose from. The options available are:
stone baked pitta pockets
wholegrain pitta bread
You can find their full range of products here. This particular brand is more common in the UK and you can find their gluten-free pitta in most grocery stores. They're usually around £2.50 for a pack of 4.
Genius
Genius is a great brand if you're looking for a cheaper option. However, if you have a choice – I would highly recommend paying more for BFree, as the quality and taste is much better, in my opinion. However, you can find Genius Gluten Free Pitta Breads for £1.50 for a pack of 3 in stores such as Tesco and Sainsburys in the UK.
The main ingredients in their pita bread are rice flour, potato starch, and tapioca starch.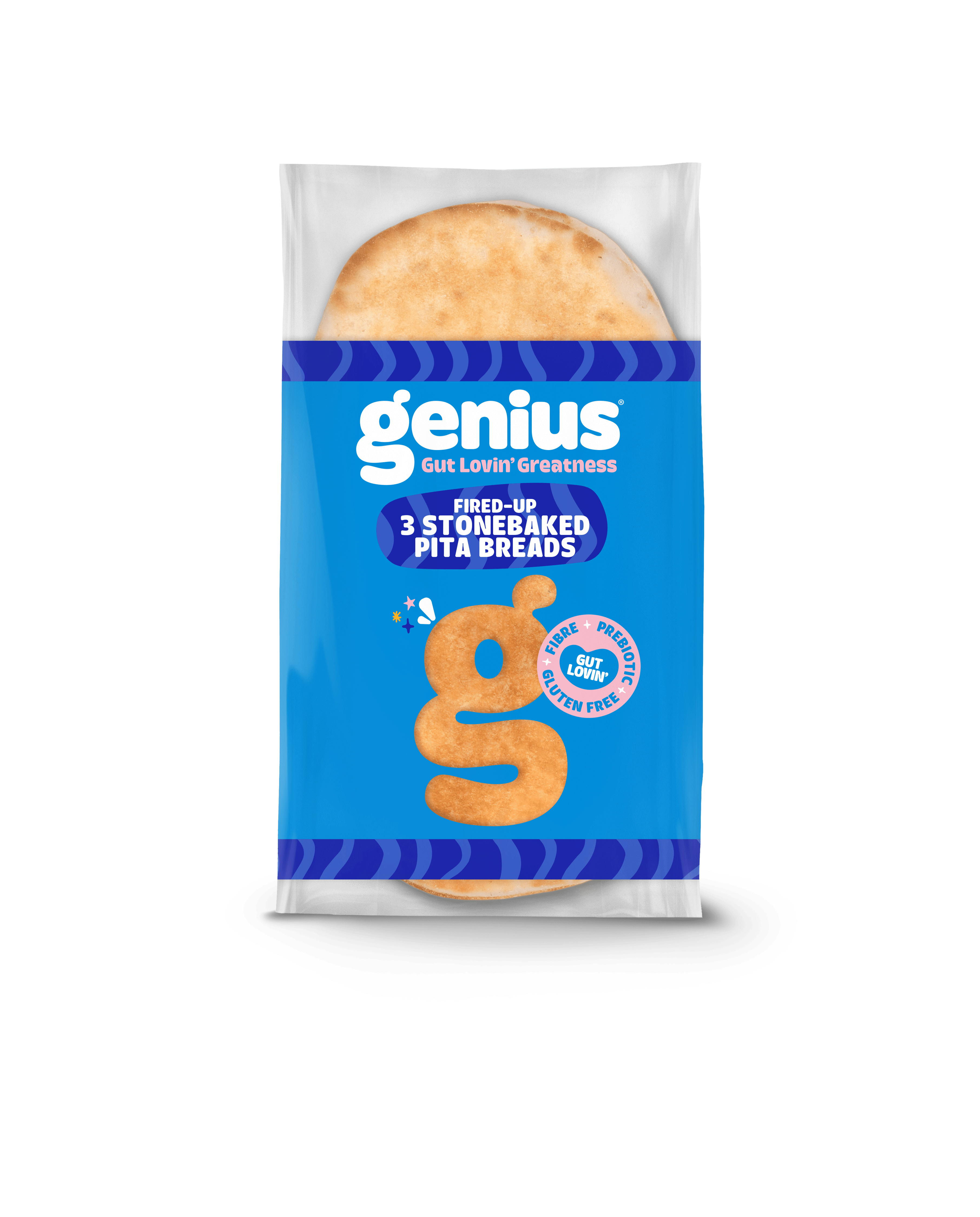 Make Your Own Gluten Free Pita Bread
If you're unable to find any of the brands above, it's actually surprisingly easy to make your own gluten-free pitas! This recipe from Gluten-Free on a Shoestring is my go-to choice if IP wants to make my own.
Ingredients
The ingredients you'll need are:
1 3/4 cups of all-purpose GF flour
1 teaspoon of xanthan gum
1/4 of modified tapioca starch
1 1/2 teaspoons of baking powder
1 teaspoon of salt
1 tablespoon of vegetable oil
50g egg at room temperature
25g egg white at room temp
3/4 cup of milk at room temp
Recipe
Preheat your oven to 400F.
Place the flour, xanthan gum, tapioca starch, baking powder, and salt into your blender/food processor. Pulse to combine well
Put your dry ingredients into a bowl and add the eggs and milk. Beat until combined well. You want the dough to be thick, but slightly sticky when you touch
Lightly flour a surface and divide your dough into 8 even pieces
Roll each piece into a ball on your floured surface. Push down on each ball to make a disk and roll out to just under 1/4 of an inch thick
Be sure to leave around 1 inch apart when you place them on the parchment paper. Place in the oven and bake for 2 minutes
As quickly as possible, open the oven and invert the pitas. Bake for 1 minute. Reinvert and bake until puffed the way a pita should be. They should be a golden color
Remove from the oven and allow to cool for a few minutes before eating!
Read more about: 
Are Pupusas Gluten-Free? (GF Recipes)
Conclusion
I hope this article has helped to answer the question of where to buy gluten-free pita bread and given you an insight into my favorite gluten-free pita brands. Whether you're buying your pita from the store or making your own, pita bread is absolutely delicious and is a perfect side dish for many lunch or evening meals.
Do you know of any other gluten-free pita brands? Or do you have your own recipe you'd like to share? If so, please feel free to let me know in the comments below. Sharing is caring!
FAQs
Is All Pita Bread Gluten Free?
No. While you can find pita bread made with gluten free ingredients, they are definitely not always gluten free. That is why it's always best to check the ingredients label of the product you're buying for the most up to date information. 
Are Pitas Gluten Free?
As you can see from the ingredients, flour is the main ingredient in pita breads. And the flour that is most commonly used is wheat flour. Wheat is a gluten containing grain, and must be avoided when following a gluten free diet. Most pita breads that you see in stores will not be gluten free - and will more than likely contain wheat. 
Where to Find Pita Bread
Most grocery stores will offer at least one variety of pita bread. But if that's not the case, stores like Amazon are great for purchasing gluten free pita bread. It's also advisable to check the brand's own websites, as they often have offers on bulk orders too! 
Hi, my name's Zoë. I'm 28 years old and live in London, UK. I work full time as a freelance writer and critic for West End theatre. Writing has been a passion of mine for as long as I can remember. I spend most of my free time at the theatre, or at conventions. I'm married to the love of my life, and live in a small apartment with my fur baby, Lillie. I run two of my own blogs: No Safer Place and Stage to Page: both of which have won awards. I also have a YouTube channel where I talk about all things stagey.