Last Updated on April 18, 2022
Today, we're going to be answering the question: does bacon have gluten? It may seem like an odd question – as surely bacon is always gluten free, it's just pork belly after all? Well, this is not always the case. Like most foods, gluten can sneak its way into almost any food product, and of course, there's always the risk of cross-contact. Let's take a look at the typical ingredients you'll find in bacon.
Ingredients In Bacon
When looking at the ingredients in the bacon, you'll usually find the following ingredients:
pork belly
water
sugar
salt
sodium phosphates
sodium ascorbate
sodium nitrate
Of course, if you're buying bacon that already has flavoring added (such as maple bacon), the ingredients will differ, so it's always worth checking the label before making any purchases.
Gluten Free Bacon Brands
In the US, there are many gluten-free brands to enjoy; many of them being incredibly popular and easily accessible. Let's have a round-up of some of the best brands to buy for gluten-free bacon.
Applegate Farms
Applegate Farms has an extensive gluten-free list of products, which you can find here. Among those products – there's a whole load of gluten-free bacon! Their gluten-free bacon options include:
No Sugar Bacon
Sunday Bacon
Thick Cut Bacon
Turkey Bacon
No Sugar Bacon (Organic)
Sunday Bacon (Organic)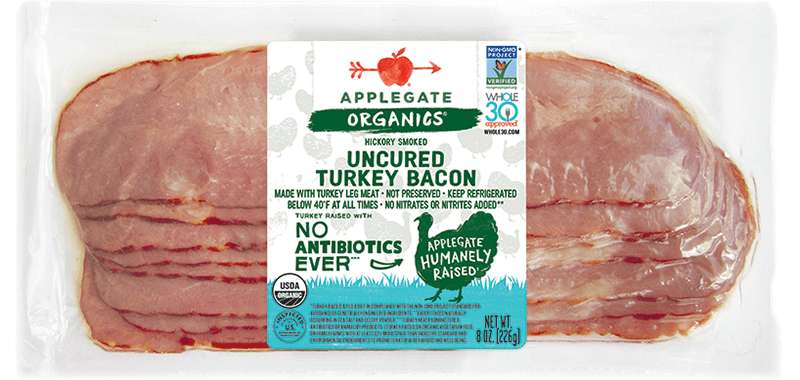 Read more about: Is Genoa Salami Gluten-Free?
Applegate Farms also offers products such as gluten-free chicken tenders, gluten-free chicken nuggets, and gluten-free sausage breakfast patties; all of which are ideal if you're following a gluten-free diet.
Wellshire Farms
Wellshire Farms have an incredible allergen database, which gives you the option to check any allergies you have and displays any products that you can eat from their range. This tool is super easy to use, and it would be so helpful for other brands to offer this service.
Some of their gluten free bacon products include:
Applewood smoked dry rubbed center cut bacon
bacon bits
Canadian bacon
classic sliced turkey bacon
fully cooked bacon strips
original dry rubbed bacon
organic sugar-free turkey bacon
smoked maple uncured bacon
This is just a small selection of the gluten-free products they offer – they have a whopping 83 products!
Boar's Head
Boar's Head is a premium deli brand. And good news – all of their meats, condiments, and cheeses are gluten-free! That's right, every one of their meats is gluten-free, including the bacon. From Extra Thick Cut Naturally Smoked Bacon, to Traditional Canadian Bacon; we're definitely spoilt for choice with Boar's Head.
Dietz and Watson
While Dietz and Watson don't have many choices when it comes to bacon, this producer of deli meats and cheeses is certified gluten-free. When a product is certified gluten-free, this means that each product undergoes rigorous testing and must meet strict guidelines set by the FDA. This particular brand produces the following gluten-free bacon:
Regular Bacon
Canadian Style Bacon
Other Brands
There are several more brands that confirm their bacon is gluten-free, rather than "no gluten ingredients". These brands include:
Beeler's
Dakin Farm
Jones Dairy Farm
Do you know of any other brands? Please feel free to let me know so I can add them to the list.
Ways To Add Bacon To Your Dishes
The crispy and salty taste of bacon is an incredible addition to any dish. But if you're struggling with how to add it to your dishes, why not try one of these ideas?
bacon onion rings
maple bacon salmon
maple bacon carrots
bacon wrapped parmesan potatoes
bacon asparagus bites
pancakes with bacon & maple
candied bacon Brussel sprouts
bacon fried apples
loaded mashed potato bake with bacon
bacon weave apple pie
Whether you're looking for breakfast, lunch, or dinner – bacon can work in any meal. It really is that versatile – and that delicious. It adds the perfect salty crunch to a meal if you're using plain bacon, or adds the ideal sweet crisp to a dessert or breakfast, with candied bacon.
Conclusion
I hope this article has helped to answer the question: does bacon have gluten? And also helped to identify all the gluten-free brands that are available to us. Some gluten intolerants are happy to buy bacon that doesn't contain any gluten ingredients, while others prefer to opt for "gluten-free" bacon only. As long as you're choosing whatever you feel most comfortable with, that's the most important thing.
Do you know of any other gluten-free bacon brands that didn't make the list. Or do you have a bacon recipe you'd like to share? If so, please feel free to let me know in the comments below. Sharing is caring!
Read more about: 
Are Mccormick Bacon Bits Gluten-Free?
FAQs
Can You Eat Bacon on a Gluten Free Diet?
Of course! Plain bacon, like all meats, is naturally gluten free. However, if the bacon isn't plain, it may contain flavorings and additives. If this is the case, then there may be a chance that the bacon is not gluten free. It's always best to check the ingredients label, as every brand is different, and will use varying ingredients. 
Does Smoked Bacon Have Gluten?
Whether the bacon is smoked or unsmoked, it doesn't usually affect it's gluten free status. The flavorings and additives are what makes bacon potentially not gluten free.
Is Bacon Ever Not Gluten Free?
Unfortunately, yes. Most brands are not "gluten free". Many brands contain "no gluten ingredients", but that does not make the item gluten free. An item can only make gluten free claims if there is no gluten ingredients, and they can be sure that it hasn't been a victim of cross contact. Cross contact is when a non-gluten containing product comes into contact with gluten due to where it's made, cooked, etc. Also, there are a few brands that contain gluten ingredients as flavorings and additives. 
How Do You Get Gluten Free Bacon?
Most stores stock gluten free bacon, so there's no need to hunt far and hide to fulfil your bacon cravings! We'll be taking a look at the top gluten free brands in this post. 
Hi, my name's Zoë. I'm 28 years old and live in London, UK. I work full time as a freelance writer and critic for West End theatre. Writing has been a passion of mine for as long as I can remember. I spend most of my free time at the theatre, or at conventions. I'm married to the love of my life, and live in a small apartment with my fur baby, Lillie. I run two of my own blogs: No Safer Place and Stage to Page: both of which have won awards. I also have a YouTube channel where I talk about all things stagey.