Last Updated on April 21, 2022
Today, we're going to be answering the question: do French fries have gluten? Whether you're having them as an accompaniment with a meal, a side dish, or just a snack – French fries are just perfection. When I first received my diagnosis, my worry was that I'd never be able to eat French fries again – but are they safe for a gluten-free diet? They're just potatoes, right? Let's take a look.
What Are French Fries?
I think we all know what French fries are, but if you're unfamiliar, they're potatoes that have been cut into equal strips. They're then dried and fried. For best results, deep fry them. If you're not from the US, you'll likely call them chips – and they're the same thing.
Ingredients In French Fries
The main ingredients in French fries are potatoes and oil. They're the two base ingredients you need for any French fries. However, if you're purchasing from a grocery store or a restaurant, they may flavor their chips with seasonings or spices. Salt is, of course, the most popular seasoning to go with fries.
Learn more about: Why Are Outback Fries Not Gluten-Free?
Do French Fries Have Gluten?
Naturally, French fries are gluten-free. Potatoes and oil both contain no gluten and are safe when following a gluten-free diet. However, if the fries have any seasoning or batter, it's highly unlikely that they'll contain gluten. This is because wheat flour is usually added and makes the fries extra crispy when fried.
So the answer is: sometimes. There are many brands of gluten-free French fries, which we'll be taking a look at in this post.
Cross Contact With French Fries
Cross contact is a massive risk when it comes to French fries. Cross contact is when a non-gluten-containing food comes into contact with gluten. With French fries, this happens during frying. If the fryer used for fries is the same fryer they use for gluten-containing products – this will mean the fries are definitely NOT gluten-free anymore.
Gluten will contaminate the oil, and therefore contaminate any food that goes in after, whether that food is gluten-free or not. This is why it's always best to check with your server if they have a dedicated gluten-free fryer before ordering at a restaurant – I have had a few bad experiences due to this!
Gluten Free French Fries
Let's take a look at the most popular brands, and which gluten-free products they have to offer.
Ore-Ida
Ore-Ida makes a range of potato-based frozen products. While some of them do contain gluten – there is a huge selection of their products that carry a gluten-free label or contain no gluten ingredients. Let's take a look at the options we have!
Waffle Fries
Crinkles
Shoestring French Fries
Golden French Fries
Twirls
Golden Crinkles
Steak Fries
Golden Tater Tots
Mini Tater Tots
Golden Crispy Crowns
Extra Crispy Tater Tots
Onion Tater Tots
Extra Crispy Crowns
Diced Hash Brown Potatoes
Shredded Hash Brown Potatoes
Potatoes O'Brien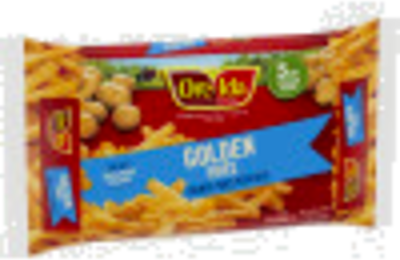 The following products do not carry a gluten-free label. They do however contain no gluten ingredients, which you may be comfortable eating:
Hash Brown Patties
Homestyle Simple 'N' Creamy Mashed Potatoes
Butter 'N' Garlic Mashed Potatoes
Homestyle Steam N' Mashed Potatoes
Homestyle Mashed Potatoes 'N' Cauliflower
McCain
McCain is the brand I usually opt for, as it's the most accessible brand in the UK and is available in most grocery stores. They also have McCain fries in the US, however, their ingredients may differ slightly from the products we're looking at today – so always be sure to check.
McCain UK state that the following McCain products are gluten-free:
Gluten-Free Home Chips
Quick Chips
Original 5% Oven Chips
Ready Baked Jackets
Unicorns
Jacket Wedges
Sweet Potato Wedges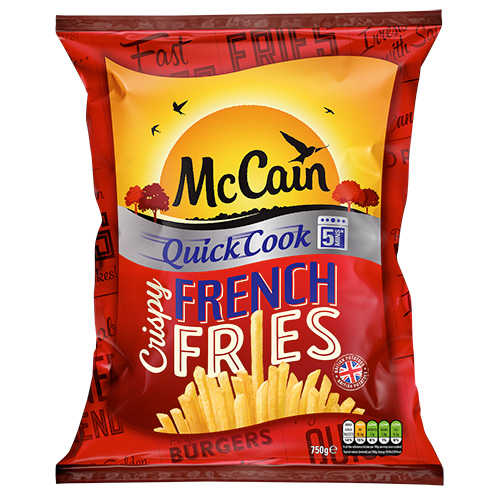 McCain especially makes gluten-free home chips, which carry a clear gluten-free label. Their Gluten-Free Home Chips are made using the following ingredients:
potatoes
modified potato starch
rice flour
dextrin
pea fiber
stabilizer
pea protein
sunflower oil
salt
Healthy Alternative For French Fries For Snacks
If you're craving French fries, but you're looking for something healthier – there are lots of alternatives! The easiest way is to air fry your French fries or cook them in the oven. Deep frying foods instantly make them far more unhealthy.
Or you may want to try making fries using one of these options:
parsnip fries (one of my favorites!)
sweet potato fries
carrot fries
asparagus fries
pita chips (ensure they're gluten-free)
Read more about: Are Alexia Sweet Potato Fries Gluten-Free?
Conclusion
I hope this article has helped to answer the question: do French fries have gluten? And helped you to see how many options we have available! It's always worth checking grocery stores' own brands too if you're happy to eat foods that contain no gluten ingredients, rather than those that carry a gluten-free label – as they'll be plenty of options!
Do you know of any other gluten-free fries? If so, please feel free to let me know in the comments below. Sharing is caring!
FAQs
How Much Gluten is in French Fries?
Naturally? There's no gluten in French fries. However, the way they're cooked and seasoned may change that - so always be sure to check ingredients labels, or check with your server before ordering how the fries have been cooked.
Can You Eat French Fries if You Have Celiac Disease?
Of course! There are plenty of brands that are safe for those that have celiac disease. If you can, it's always best to opt for products that carry a gluten free label, as that means they've been tested for gluten. Whether you have celiac disease or are gluten intolerant - there are plenty of fries out there for you!
Is Fried Food Gluten Free?
Usually, fried food is not gluten free. This is because fried foods usually tend to have a batter or coating around them, which is usually made from wheat flour or breadcrumbs; both of which contain gluten. However, if gluten free breadcrumbs or gluten free flour has been used, it's highly likely that the fried food will be gluten free if it's plain meat or vegetables!
Hi, my name's Zoë. I'm 28 years old and live in London, UK. I work full time as a freelance writer and critic for West End theatre. Writing has been a passion of mine for as long as I can remember. I spend most of my free time at the theatre, or at conventions. I'm married to the love of my life, and live in a small apartment with my fur baby, Lillie. I run two of my own blogs: No Safer Place and Stage to Page: both of which have won awards. I also have a YouTube channel where I talk about all things stagey.