Last Updated on April 18, 2022
Today, we're going to be answering the question: are tater tots gluten free? And taking a look at the best gluten-free brands of tater tots that are available for those following a gluten-free lifestyle. We'll even be looking at how to make your own tater tots – because nothing beats homemade! But what actually are tater tots? And what ingredients are usually in tater tots? Let's take a closer look.
What Are Tater Tots?
If you're from the UK, you may know tater tots better as potato croquettes. Tater tots are small cylinder shapes of potatoes that have been grated, and then deep-fried. They are usually served as a side – and deep-fried cylinders of crunchy goodness! They're called tater tots, as "taters" is a short for potato.
Learn more about: Are Alexia Sweet Potato Fries Gluten-Free?
What Are The Tater Tots Ingredients?
Ingredients for tater tots will differ depending on where you purchase them from. However, the typical ingredients in tater tots are:
potatoes
oil
flour
seasonings
Are Tater Tots Gluten Free?
As the main ingredient in tater tots is potatoes, you would think that they would always be gluten-free. However, that is not the case. While potatoes are gluten-free, brands will sometimes use wheat flour to help the tater tots go extra crispy.
It's always worth noting that when you order tater tots in a restaurant, although they may not contain gluten – it's likely they'll share a fryer with foods that do contain gluten, which is a huge risk of cross-contact. It's always best to check with your server before ordering and make them aware of any allergies you have.
Gluten Free Tater Tots Brands
If you're looking for tater tot brands that carry a gluten-free label, they're unfortunately aren't too many. However, there are a few brands that do not contain any gluten ingredients but do not make any gluten-free claims. Let's take a look.
Ore-Ida
Ore-Ida is the leading brand of tater tots in the US. And guess what? They confirm that their tater tots products are gluten-free! The following potato products are safe when following a gluten-free lifestyle.
Golden Tater Tots
Extra Crispy Tater Tots
Onion Tater Tots
Golden Crispy Crowns
Ready in 5 Microwaveable Extra Crispy Crowns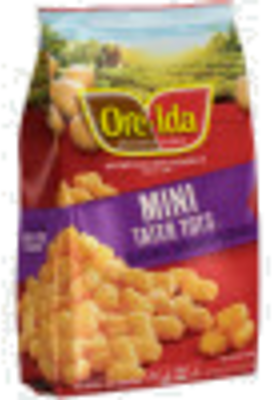 The ingredients in their golden tater tots are:
potatoes
vegetable oil blend
salt
yellow cornflour
dextrose
sodium acid pyrophosphate
dehydrated onion
sodium acid sulfate
natural flavor
You can find out more about their range of products here.
Other Brands
There are a few popular brands that do have tater tots that do not contain any gluten ingredients. However, they do not make gluten-free claims, which makes me reluctant to recommend them. If you're celiac or particularly sensitive to gluten, I would recommend sticking to Ore-Ida. If you're comfortable with potentially consuming small traces of gluten, Birdseye and Lamb Weston both do not contain any gluten ingredients.
If you're looking for organic tater tots that are gluten-free, they seem impossible to find. If you're looking for an organic option, it may be best to make your own.
Gluten Free Tater Tots Recipe
Unfortunately, there aren't too many gluten-free tater tots available. Because of this, you may want to try making your own – as you really don't need many ingredients at all! And everything tastes better homemade. Let's take a look at this delicious gluten-free homemade tater tots recipe from Don't Mess with Mama.
Ingredients
The ingredients you'll need for this recipe are:
4

 

large potatoes

(

peel and dice)

1/2 of

 

yellow onion

 

(dice)

2

 

cloves of

 

garlic

 

(finely chop)

3

 

tablespoons of

 

lard or coconut oil 

1/2

 

cup of grated

 

Parmesan cheese

1.5

 

tablespoons of arrowroot powder

sea salt
black pepper
paprika
Recipe
Preheat your oven to 400F
Grab a bowl and toss your potatoes with lard (or oil), garlic, and onion
Add your mixture to a large pan. Bake for 25-30 minutes (ensure potatoes are soft). Take them out and let them cool.
Add mix to a food processor and blend until you have pebble-sized pieces of potato (be sure not to over pulse)
Put the mix back into your bowl. Add the pepper, salt, paprika, Parmesan, and arrowroot powder. Try not to mash the mixture, you just want to combine it – try using a spatula
Now it's time to make the tots. There are two ways you can do this:
Sushi Style
Grab a piece of parchment paper and add around one cup of the mixture to the paper. Now it's time to use the paper like a sushi roller! You want to roll the mixture until it's around 1 inch thick. Then unroll the paper and cut your tater tots 1-2 inches in length
Freeze Style
Line a freezer-friendly sized pan with parchment paper. Add the mixture to the pan; it should be around 1 inch thick.
Freeze for around 30 minutes. Take out of the freezer and cut into tater tots
Cook
Using parchment paper, line a pan. Leave some space in between the tater tots when you lay them on the baking pan. Bake for around 20-25 minutes. Your tater tots are ready!
Read more about: 
Do Mashed Potatoes Have Gluten?
Conclusion
I hope this article has helped to answer the question: are tater tots gluten-free? And given you an insight into the gluten-free brands of tater tots we can enjoy. While they aren't too many gluten-free brands, the leading brand of tater tots is – which is great news for us, as they're definitely my favorite!
Do you know of any other gluten-free tater tots brands that didn't make the list? If so, please feel free to let me know in the comments below. Sharing is caring!
FAQs
Are Frozen Tater Tots Gluten Free?
Frozen tater tots usually have flour as an ingredient. This is because it's harder for the tots to go crispy in the oven, so the flour is used to help them crisp up. More often than not, wheat flour is used - but it's always best to check the ingredients labels. 
Hi, my name's Zoë. I'm 28 years old and live in London, UK. I work full time as a freelance writer and critic for West End theatre. Writing has been a passion of mine for as long as I can remember. I spend most of my free time at the theatre, or at conventions. I'm married to the love of my life, and live in a small apartment with my fur baby, Lillie. I run two of my own blogs: No Safer Place and Stage to Page: both of which have won awards. I also have a YouTube channel where I talk about all things stagey.