Last Updated on April 19, 2022
Today, we're going to be looking at where to buy gluten free large pasta shells. One of the things I miss most about my life before diagnosis was pasta. It was definitely the food I ate most often and luckily, over the years, more and more gluten-free options have become available. While there used to be very limited varieties – now you can find gluten-free variants of almost any pasta! My favorite pasta has always been conchiglie, but the large pasta shells are even better, and that's what we're going to be looking at today!
Ingredients In Large Pasta Shells
Pasta requires very few ingredients at all. In fact, the only two ingredients you need are durum wheat semolina and water. As you can probably guess – traditional large pasta shells are not gluten-free. Wheat is a gluten-containing grain and wheat is what pasta is solely made from. However, there are plenty of gluten-free options.
Recipe: How To Make Gluten Free Large Pasta Shells With Cheese and Spinach
When you buy the large pasta shells, they're absolutely perfect for stuffing and then baking in the oven. This Cheese and Spinach Stuffed Shells from Savoring Today is one of my go-to dinners. Let's take a look at how to make it.
Ingredients
The ingredients you'll need are:
8oz of gluten-free shell pasta
salt for pasta water
2 tablespoons of olive oil
4 cloves of minced garlic
1/4 cup of green onion
9oz of chopped spinach
15oz of ricotta cheese
2 beaten whole eggs
1 pinch of nutmeg
1/4 teaspoon of sea salt
1/4 teaspoon of pepper
1/2 cup of grated Parmesan cheese
2 cups of grated mozzarella cheese
1/4 cup of finely chopped parsley
3 cups of tomato/meat sauce
Recipe
Preheat your oven to 375F. Cook your pasta following the instructions on the packet. Once cooked, drain and rinse with cold water
When the pasta is cooking. Grab a pan and add oil, garlic, green onions, and spinach. Cook until softened on a medium heat
Add the ricotta, beaten eggs, nutmeg, pepper, and salt to a bowl and mix well. Once mixed, add the two types of cheeses until well combined. Now add your parsley, spinach, onions, and garlic
Now add the mixture to a resealable bag. Cut one corner and squeeze the mixture into the pasta shells
Place the filled shells into a baking dish and cover the shells with the tomato/meat sauce. Cover with foil and bake for around 30 minutes. Uncover and add one cup of mozzarella. Bake for a further 10-15 minutes. Ensure the cheese is melted
Remove from the oven and your dish is ready to serve!
Read more about
Gluten-Free Pasta Dough Recipe Ravioli: How To
Gluten Free Large Pasta Shells Brands
Let's take a look at some of the best gluten-free conchiglioni that are currently on offer to those following a gluten-free diet.
Farabella
Farabella is my go-to choice when it comes to jumbo shells. This is because I'm in the UK and it's the easiest for me to find! Not only is this pasta gluten-free, but it's also wheat-free, vegan, kosher, dairy-free, egg-free, non-GMO, and no added sugar; making it suitable for a range of dietary lifestyles.
It's made in Italy and comes in two different sized packets: 250g and 500g. The only ingredients in this pasta are:
Heat-treated cornflour
Heat-treated rice flour
Corn starch
You can buy this pasta here for £4.59.
Maranello
Maranello is another brand made in Italy, making it as authentic as possible. Maranello is a certified gluten-free brand. This means that each product undergoes rigorous testing for traces of gluten and must meet strict guidelines set by the FDA. These products are as safe as possible!
This pasta is made from corn and it's currently on sale, direct from their website. You can buy a 250g for £1.99 here.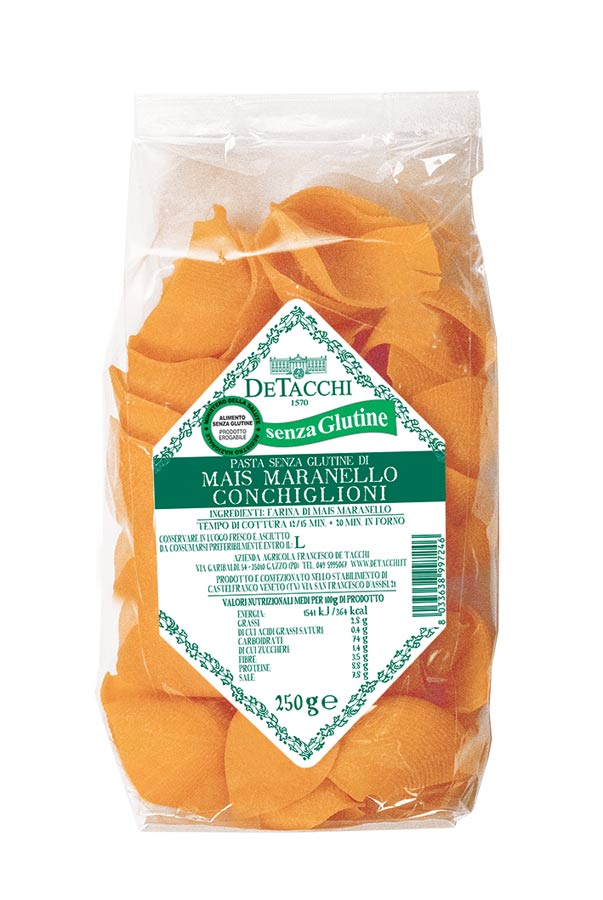 Tinkyada
If you're in the US and looking for a gluten-free pasta brand – Tinkyada is the brand to choose! They have a huge selection of gluten-free products, including jumbo shells. Their pasta shells have many certifications – including gluten-free, kosher, vegan, and non-GMO.
The only ingredients in this pasta are brown rice and pasta. What's great about this brand is that it doesn't go mushy – no one likes mushy pasta!
Where To Buy Gluten Free Large Pasta Shells
You may be able to find gluten-free large pasta shells in your local grocery stores, such as Walmart. However, if not, it may be best to buy them online on stores like Amazon. Or even try ordering direct from the brand themselves. If you do it that way, they often offer free shipping and discounts when you buy in bulk – so it's definitely worth checking out.
Conclusion
I hope this article has helped with where to buy gluten-free large pasta shells and the best brands to choose from. While there aren't too many options available at the moment, hopefully in the future – that will change. Gluten-free is becoming an increasingly popular dietary lifestyle to follow, so I'm optimistic for plenty more jumbo shells in the future!
Do you know of any other gluten-free jumbo shell brands that didn't make the list? Or do you have your own recipe? If so, please feel free to let me know in the comments below. Sharing is caring!
Learn more about: Gluten-Free Gnocchi Brands: Top Picks
FAQs
Does Anyone Make Gluten-Free Pasta Shells?
Of course! Nowadays, you can find gluten free varieties of almost anything. As large pasta shells aren't quite as common as varieties like macaroni or penne, it's slightly more difficult to source - but there's a few options available online.
What Are Large Pasta Shells Called?
Most people just call them large pasta shells - but their name is in fact, conchiglioni. They're given this name because their shell-like shape make them look like conch shells. There's two more varieties: conchiglie, which is the standard sized pasta shells and conchigliette, which are tiny pasta shells. Shell pasta is great as when you add sauce, it fills every shell and leaves them bursting with flavor.
Hi, my name's Zoë. I'm 28 years old and live in London, UK. I work full time as a freelance writer and critic for West End theatre. Writing has been a passion of mine for as long as I can remember. I spend most of my free time at the theatre, or at conventions. I'm married to the love of my life, and live in a small apartment with my fur baby, Lillie. I run two of my own blogs: No Safer Place and Stage to Page: both of which have won awards. I also have a YouTube channel where I talk about all things stagey.