Last Updated on November 29, 2021
Today, we're going to be answering the question: does Cool Whip have gluten? And looking at some delicious gluten-free recipes. Let's be honest, it's not a healthy choice – but everyone deserves a treat every now and again. Especially when our diet is so restricted already! But can we enjoy Cool Whip? Let's take a look.
What Is Cool Whip?
You likely already know what Cool Whip is, but if you're not from the US – you may not have! To put it simply, it's very much like whipped cream. But Cool Whip is a brand name from Kraft Heinz. They refer to their Cool Whip as a whipped topping. It's very convenient and you can use Cool Whip in desserts and pies. It comes frozen and must be defrosted in the refrigerator before use.
Because of its convenience, Cool Whip is considerably more expensive than other creams for its milk – in fact, usually 50% higher than standard cream!
Ingredients In Cool Whip
The ingredients you'll find in the Original Cool Whip are:
water
hydrogenated vegetable oil (such as coconut & palm kernel oils)
high fructose corn syrup
corn syrup
skim milk
light cream
sodium caseinate
natural and artificial flavor
xanthan and guar gums
polysorbate 60
sorbitan monostearate
sodium polyphosphate
beta carotene (as a coloring)
Is Cool Whip Gluten-Free?
It's important to note that Kraft does not make any gluten-free claims when it comes to their Original Cool Whip. However, when we look at the ingredients, there are no gluten ingredients whatsoever. Because of this, and the reliability of Kraft with their label packaging – Cool Whip is deemed as safe to consume in the gluten-free community.
Kraft's allergen statement says that all of their products are labeled in compliance with the FDA guidelines and would have to disclose any gluten in levels over 10ppm. Anything over 10ppm will clearly be stated on the packaging/ingredients label.
As the label contains no gluten – we can safely assume it is gluten-free!
Difference Between Cool Whip and Whipped Cream
They look very much the same – so you may be wondering what the difference is! Cool Whip is slightly sweeter than cream, so if you have a particularly sweet tooth, Cool Whip is the way to go. The texture of the two is also something that is very different. Whipped cream is light and airy. Whereas Cool Whip is dense and has a much heavier texture. We mentioned earlier the sweetness of Cool Whip – because of its sweetness, it's usually the unhealthier choice of the two; and the most expensive!
Gluten and Dairy Free Whip
Cool Whip was often marketed as dairy-free – however, it now contains skim milk. So if you're looking for a dairy-free whip, and one that is certified gluten-free, look no further!
Cocowhip is a great choice for a range of dietary lifestyles. They have Cocowhip Original and Cocowhip Light. Both varieties are certified gluten-free. This means that each product undergoes rigorous testing and meets strict guidelines set by the FDA to ensure the gluten-free status of the end product. These items are as safe as possibly can be for those following a gluten-free diet.
The ingredients you'll find in Cocowhip Original are:
Filtered Water
Organic Coconut Oil
Organic Tapioca Syrup
Pea Protein
Guar Gum
Sunflower Lecithin
Xanthan Gum
Natural Flavor
Organic Cane Sugar
The only allergen in this frozen topping is coconut. It's worth noting if you're not a coconut lover – it may be best to avoid this frozen treat.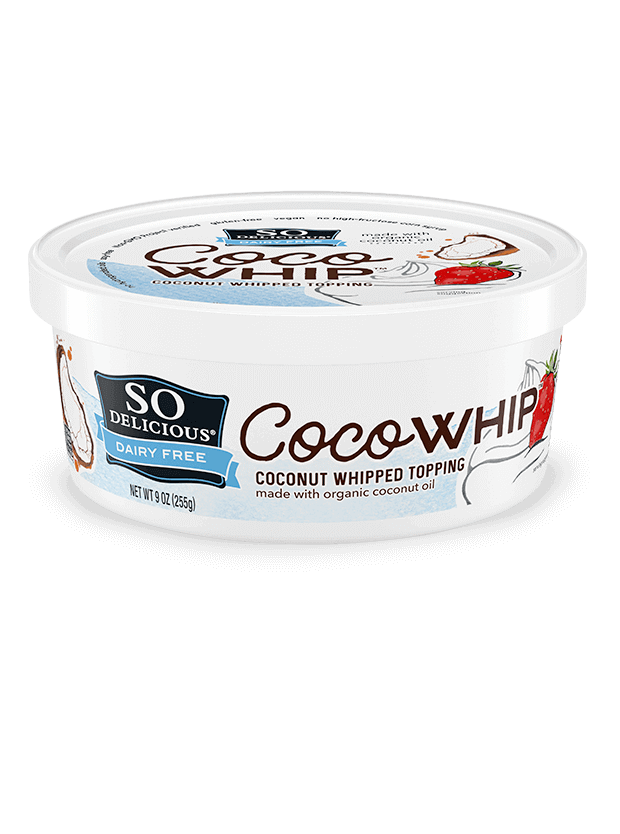 Cool Whip Gluten-Free Recipes
If you're looking for recipes to use Cool Whip that are suitable for gluten-free life, there's a selection of recipes to choose from. We're going to be looking at my two favorites today.
Cookies and Cream Fluff Pie
The first recipe is this cookie and Cream Fluff Pie from Healthy Little Peach. Now that Oreos do a gluten-free variety, it makes this recipe even easier. Cookies and cream are a match made in heaven and one of the foods I missed most when I was first diagnosed. So this pie is a real treat!
The ingredients you'll need for this recipe are:
Cool Whip/Cocowhip Frozen Topping (whichever you prefer)
Vanilla Pudding
Almond Milk (or milk of choice)
Vanilla Extract
Gluten-Free Chocolate Cream Cookies (Oreo, Glutino, etc.)
Almonds
Pecans
Dates
Maple Syrup
Ghee
The prep time for this recipe is just 10 minutes! And then leave it to chill for a few hours and you'll have a tasty dessert in no time at all.
Vegan Pumpkin Cream Tart With Gingersnap Crust
Halloween may be over but you can enjoy pumpkin at any time of the year! And this recipe gives off a Fall vibe. This Vegan Pumpkin Cream Tart with Gingersnap Crust is from So Delicious Dairy Free. The prep time for this recipe is an hour, so make sure you set aside enough time to make this one. You'll also need a few ingredients for this one – although many of them you probably already have in your pantry.
The ingredients you'll need for this recipe are:
Gluten-Free Oats
Pecans
Cinnamon
Ginger
Salt
Coconut Oil
Maple Syrup
Molasses
Coconut Cream
Canned Pumpkin Puree
Almond Butter
Vanilla Extract
Zest of an Orange
Nutmeg
Cloves
Cool Whip/Cocowhip (whichever you prefer)
The list is extensive but it looks utterly delicious!
Conclusion
I hope this article has helped to answer the question: does Cool Whip have gluten? And help you become more familiar with just some of the recipes you can make using the famous Cool Whip. The best part is it's definitely gluten-free and you can enjoy your frozen topping treat in peace!
Do you have any other Cool Whip-like recommendations? Or have any recipes using Cool Whip that you're desperate to share? If so, please feel free to let me know in the comments below. I love reading through them and finding new inspiration.
Read more about: Is There Gluten In Sour Cream?
Hi, my name's Zoë. I'm 28 years old and live in London, UK. I work full time as a freelance writer and critic for West End theatre. Writing has been a passion of mine for as long as I can remember. I spend most of my free time at the theatre, or at conventions. I'm married to the love of my life, and live in a small apartment with my fur baby, Lillie. I run two of my own blogs: No Safer Place and Stage to Page: both of which have won awards. I also have a YouTube channel where I talk about all things stagey.