Last Updated on February 14, 2022
Today, we're going to be answering the question: are Blue Diamond almonds gluten-free? And taking a look at the best gluten-free nuts to eat when following a gluten-free lifestyle. Almonds (and nuts in general), are the perfect snack and most nuts are naturally gluten-free – but we know how gluten can sneak its way into almost any food! And then there's the risk of cross-contact to think about. So are Blue Diamond almonds gluten-free? Let's take a look.
Are Blue Diamond Almonds Gluten-Free?
Blue Diamond almonds are extremely popular and if you enjoy them, we have some good news! Their snack almonds are gluten-free. In fact, all of Blue Diamond products are gluten-free, except the following flavors (which do contain gluten):
Jordan Almonds
Wasabi & Soy Sauce Almonds
They have a range of different flavors of almonds. One of their most popular is the Smokehouse Almonds. This product contains the following ingredients:
almonds
vegetable oil
salt
corn maltodextrin
natural hickory smoke flavor
yeast
hydrolyzed corn
soy protein
natural flavors
Gluten-Free Nut Brands
If you'd feel more comfortable buying products that carry a gluten-free label or make gluten-free claims – that's completely understandable. All of the brands below make such claims – so we can enjoy all of the nuts below with ease.
Nuts.Com
Nuts.Com is a fantastic brand for many gluten-free snacks (not just nuts!). But their list of nuts is extensive, and you can find their gluten-free selection here. Some of their most popular gluten-free nuts include:
Jumbo Raw Peanuts
Roasted Cashews
Roasted Pistachios
Reduced Salt Roasted Cashews
English Walnuts
Organic Walnuts
Raw Almonds
Roasted Pecans
Roasted Brazil Nuts
Organic Raw Almonds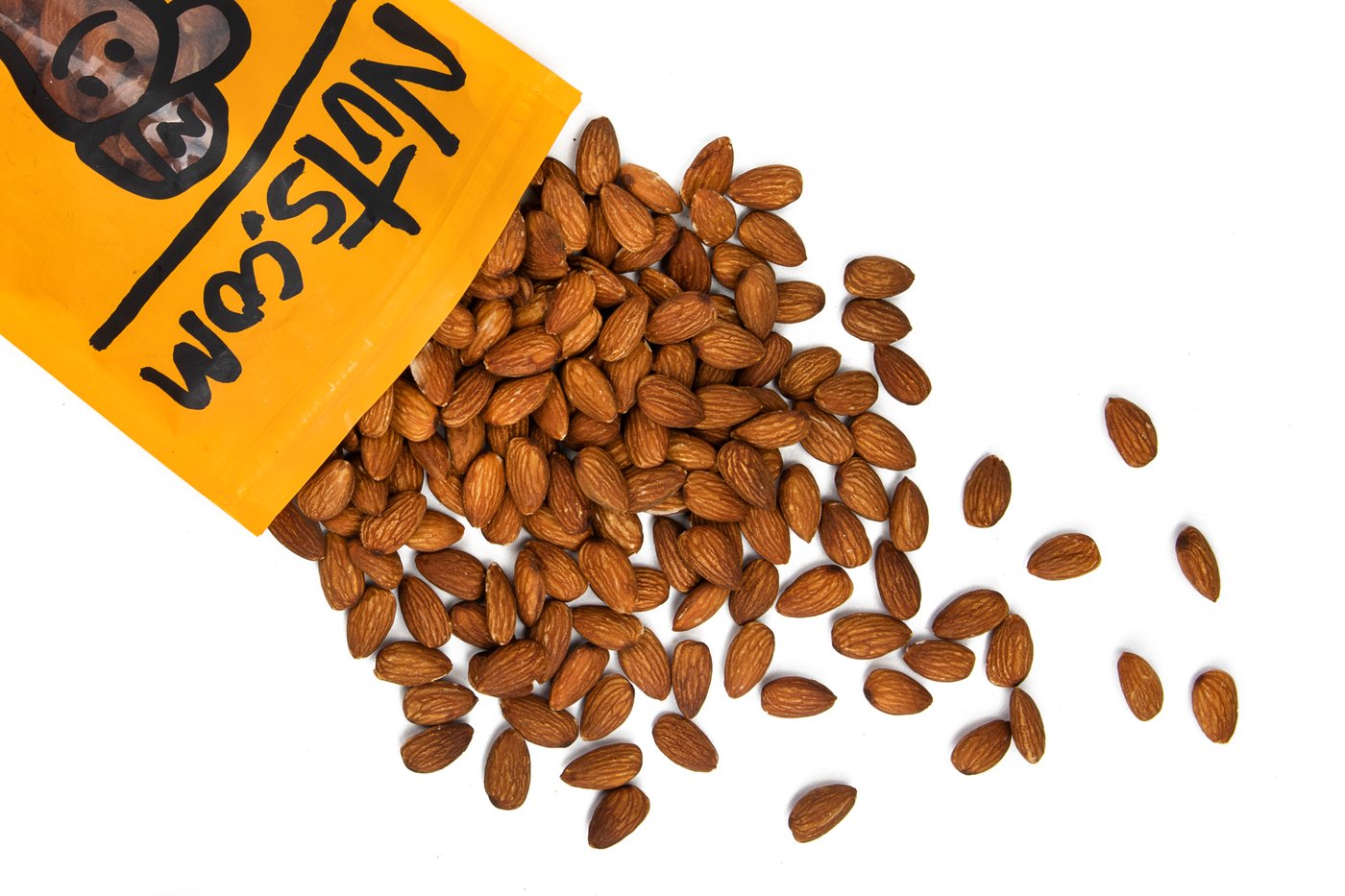 International Harvest
Another brand that offers an extensive range of nuts is International Harvest. Each flavor is not just gluten-free, but also organic, vegan, and non-GMO. Their range of flavors include:
Lemon Almonds
Tamari Roasted Almonds
Go Sprouted Almonds
Whole Jumbo Cashews
Raw Jumbo Cashews
Roasted Cashews
Cajun Cashews
Curry Cashews
Macadamia Nuts
Pine Nuts
Pistachios
Pistachio Meats
Walnut Halves
Brazil Nuts
Blue Diamond Almonds
We've had a brief look at Blue Diamond Almonds, but they actually stock a huge range of gluten-free flavors, besides the traditional original almonds. Some of their gluten-free flavors include:
Cayenne Pepper Almonds
Ghost Pepper Almonds
Carolina Reaper Almonds
Whole Natural Almonds
Lightly Salted Low Sodium Almonds
Roasted Salted Almonds
Smokehouse Almonds
Honey Roasted Almonds
Toasted Coconut Almonds
Blueberry Almonds
Sea Salt Almonds
Dark Chocolate Cocoa Dusted Almonds
Salt and Vinegar Almonds
Sriracha Almonds
Spicy Dill Pickle Almonds
Thai Sweet Chili Almonds
How incredible are those flavors!?
VIP Nuts (New York Delhi)
Without a doubt, my go-to place for nuts is New York Delhi, the home of VIP Nuts. I currently buy all of my nuts from here, because they really are that delicious. The Hot Toffee Peanuts with a Hint of Chilli is quite frankly, the most incredible nuts I've ever eaten. From one gluten intolerant to another – you absolutely must try some of their gluten-free flavors, which include:
Hot Chilli Peanuts
Hot Toffee Caramelized Peanuts with a Hint of Chilli
Cocoa Caramel Caramelized Peanuts
King Cashews Black Pepper and Sea Salt
Hot Chilli Baked Cashews
Toasted Cheese Baked Cashews
You can find the following gluten-free flavors here. Be mindful, as only the flavors listed above are gluten-free – there are several flavors across their store that are not gluten-free.
Conclusion
I hope this article has helped to answer the question are Blue Diamond Almonds gluten-free and helped you to become familiar with the huge range of gluten-free nuts available to us. The most important thing is to always check ingredients labels, even if you're familiar with a product – ingredients can change at any time.
Do you know of any other gluten-free nut brands that didn't make the list? If so, please feel free to let me know in the comments below. Sharing is caring!
Read more about: Are Planters Peanuts Gluten-Free?
FAQs
Can You Eat Almonds With Celiac Disease?
Almonds in their purest form, are gluten free - along with all other nuts! However, most nuts will come dry roasted, or with some kind of added flavoring; this is when they may not be gluten free. Wheat flour is a common ingredient to use for the coating of nuts, so be sure to check any labels before purchasing. If you can, it's best to opt for almonds that carry a gluten free label. We'll be taking a look at some of the best gluten free almonds later in this post. 
What Almonds are Gluten Free?
All almonds in their purest form are gluten free. However, cross contact is quite common with nuts, especially if you're buying in bulk bins, for example. Cross contact is when a non-gluten containing product comes into contact with gluten due to issues such as storage and transportation methods. It's always best to choose certified gluten free brands if you're celiac or are very sensitive to gluten. Brands such as Go Almonds! and Nuts.Com have some delicious gluten free almonds, which you can enjoy with peace of mind. 
Is Almond Breeze Gluten Free?
Absolutely! Almond Breeze is certified gluten free. This means that each product is tested for gluten, and must meet strict guidelines set by the FDA to ensure it's gluten free status. Almond Breeze is available in a range of flavors, including: original, vanilla, chocolate, unsweetened vanilla, hint of honey, reduced sugar unsweetened vanilla, unsweetened original and almond milk nog! 
What Nuts are Gluten Free?
All natural nuts in their purest form are gluten free. This not only includes almonds, but also, macadamia nuts, pecans, Brazil nuts, cashews, walnuts, pine nuts, pistachios and peanuts. This list is by no means exhaustive, just a selection of the most popular nuts. The only times you'll need to be mindful is when they've been roasted, or flavoring has been added. If they carry a gluten free label, they're completely safe to eat! 
Hi, my name's Zoë. I'm 28 years old and live in London, UK. I work full time as a freelance writer and critic for West End theatre. Writing has been a passion of mine for as long as I can remember. I spend most of my free time at the theatre, or at conventions. I'm married to the love of my life, and live in a small apartment with my fur baby, Lillie. I run two of my own blogs: No Safer Place and Stage to Page: both of which have won awards. I also have a YouTube channel where I talk about all things stagey.