Last Updated on November 29, 2021
Today, we're going to be answering the question: do meatballs have gluten? They're delicious balls of joy, which go perfectly with a selection of dishes, like spaghetti. But are they gluten-free? Let's take a look.
What Is A Meatball?
You probably already know what a meatball is, but if you don't, it really is what it says in the name: a ball of meat. In its purest form, it's ground meat rolled into a small ball (although you can get big meatballs too!). Ground beef is the meat most often used in meatballs, but you can find other meatballs such as turkey or pork.
Ingredients In Meatballs
There are many types of meatballs, depending on which meat and spices you use. However, the most common ingredients you'll find in typical meatballs are:
Ground Meat (usually beef)
Eggs
Butter
Onion
Seasoning (garlic, paprika, etc.)
Breadcrumbs
Tomato
This list is by no means extensive and other ingredients can be added to meatballs according to the recipe you're working from.
Do Meatballs Have Gluten?
In their purest form, meatballs are gluten-free. However, breadcrumbs or some kind of flour are often used as a filler in meatballs. This is because breadcrumbs are great at absorbing the meat juices when cooking, so it keeps your meatballs flavorful. While that's great for people that can eat gluten, what about us?
Don't worry – there are plenty of gluten-free meatballs out there that are just as flavorful and use no gluten-containing ingredients. No dry meatballs here! Whether shop-bought or homemade – we'll be covering them both later in this article.
Whenever you're buying meatballs, even if they look to be in their purest form, be sure to check the ingredients label. You probably won't be able to see the breadcrumbs inside, so it's always best to check and opt for products with a "gluten-free" label if possible.
Gluten-Free Meatballs
If you're looking to buy your meatballs ready-made, look no further. Here's a round-up of some of the best gluten-free meatballs on offer.
Beetnik
While this brand may be $10 a bag, they are Beetnik Organic Grass-Fed Beef Meatballs are worth it, if you're looking to treat yourself to some amazing meatballs. They're full of protein and certified organic and gluten-free. They have the best beefy flavor. The ingredients you'll find in these meatballs are:
"Organic Grass Fed Beef, Organic Gluten Free Breadcrumbs, Water, Sea Salt, Organic Basil, Organic Parsley, Organic Black Pepper, Organic Oregano".
Rosina
It's important to note that not all Rosina meatballs are gluten-free, but the Rosina Gluten-Free Italian Style meatballs are most definitely gluten-free. They have some amazing gluten-free recipes using their meatballs on their website, which is definitely worth checking out. Their Gluten-Free Honey Balsamic Meatballs sound incredible.
The ingredients in these meatballs are:
"Beef and Pork, Chicken, Water, Textured Soy Protein Concentrate, Soy Protein Concentrate, Salt, Dehydrated Onions, White Pepper, Garlic Powder, Romano Cheese, Parsley."
You can usually find these meatballs in your local grocery store for around $7 a bag.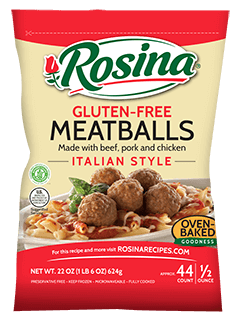 Ian's Meatballs
Ian's Italian Style Chicken Meatballs are a great option if you're looking for something other than beef. What's good about these meatballs, is that they're not just free from gluten. Oh no! They're also free from wheat, tree nuts, milk or casein, soy, eggs, and peanuts – most of the most common allergens! They do carry a "may contain" for fish, so that may be worth keeping in mind if you have a separate fish allergy.
The ingredients in these meatballs include:
"Skinless, Boneless, No Added Antibiotic or Hormone Chicken Breast, Cornflake Crumbs (no gluten), Tomato Paste, Water, Potato Flakes, Salt, Garlic Powder, Spices, Onion Powder, Sea Salt, Lemon Juice, Canola Oil".
You can usually find them in your local grocery store for around $8 a bag.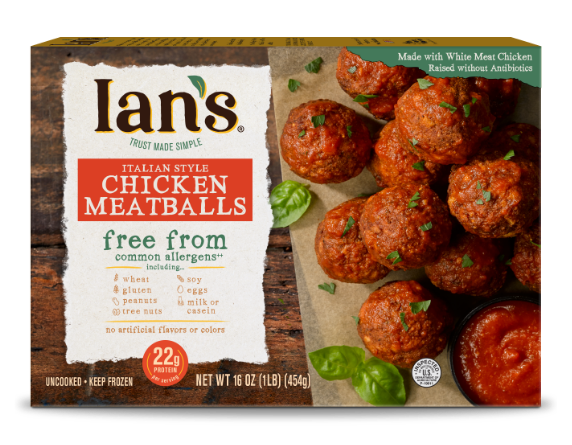 Other Brands
If you have a local butcher, or you want to try another brand that isn't on the list – just be sure to check the labels, or ask your local butcher which ingredients they use. More often than not, they'll be more than happy to answer any questions you have. And as becoming gluten intolerant is becoming increasingly popular, many companies are choosing to make all of their meatballs gluten-free. Fingers crossed for the future!
Gluten-Free Meatballs Recipe
You may want to make your own meatballs, especially as most of the ingredients you'll need you'll likely already have in your pantry. This Easy Gluten-Free Meatballs recipe from Gluten-Free Palate is a great place to start if you're looking at making homemade gluten-free meatballs. The only ingredients you'll need for this recipe are:
Ground Beef (or Chicken/Turkey)
Schar Crackers (or any other GF cracker)
Parmesan Cheese
Salt
Pepper
Onion Powder
Garlic Powder
Dried Parsley
Egg
With 10 minutes of prep time and 18 minutes of cooking time, you'll be ready to serve your meatballs in no time at all! And the best part about homemade meatballs is, you can use whichever herbs or spices you fancy. If you like your meatballs with a bit of heat, add your favorite spice to give it a kick. I have no doubt you'll have a killer recipe to impress your dinner guests within no time!
Conclusion
I hope this article has helped to answer the question: do meatballs have gluten? And helped you to become more familiar with some of the best gluten-free brands on offer. Meatballs are one of the easiest foods to make yourself – even if you're a novice like me. So why not have a go at making your own? I'm sure you won't be disappointed.
If you do make your own or feel there's a gluten-free meatball brand that didn't make the list that you think is worth a mention, please let me know in the comments below. I love reading through them all – and I might find my new favorite meatball!
Read more about: Japanese Meat Bun Recipes
Hi, my name's Zoë. I'm 28 years old and live in London, UK. I work full time as a freelance writer and critic for West End theatre. Writing has been a passion of mine for as long as I can remember. I spend most of my free time at the theatre, or at conventions. I'm married to the love of my life, and live in a small apartment with my fur baby, Lillie. I run two of my own blogs: No Safer Place and Stage to Page: both of which have won awards. I also have a YouTube channel where I talk about all things stagey.