Last Updated on January 18, 2022
Today, we're going to be answering the question: is Sorrento cheese gluten-free? But first, let's take a look at what it is, and what cheeses are on offer.
What Is Sorrento Cheese?
If you're from the US, you will no doubt be familiar with Sorrento cheeses. The brand was founded in 1947, in Buffalo, New York. Sorrento cheese is a producer of Italian-style cheeses. They make a variety of different cheeses, all of which are delicious!
Is The Brand Name Still Sorrento?
While you may know them as Sorrento, you may also know them as Galbani. After 66 years of being Sorrento, the products transitioned into Galbani packaging. Galbani is another Italian brand that is part of the same set of companies. The name change did not affect the quality or taste of the products – besides the name, everything else is the same!
Is Cheese Gluten-Free?
Generally speaking, cheese is gluten-free. However, whenever you're sampling a new cheese, it's always important to check the label, as it may be a "may contain", or may have additional sneaky gluten ingredients. This is very rare though. Also, if you're buying your cheese fresh from a deli counter, be wary of cross-contact. Although the cheese itself may not contain gluten, depending on the preparation – gluten may have found it's way in there!
Cheeses that should be naturally gluten-free are:
Brie
Cheddar Cheese
Cottage Cheese
Cream Cheese
Feta Cheese
Goat Cheese
Mozzarella Cheese
Parmesan Cheese
Provolone
Ricotta Cheese
Swiss Cheese
There has been a lot of debate whether blue cheese is gluten-free, but usually, it is safe. Just be sure to check the label! You can find out more about the different styles of cheese and their safety here.
Is Sorrento Cheese Gluten-Free?
Good news if you're a fellow cheese lover! On the whole, Sorrento/Galbani cheeses are gluten-free. Much like the cheeses listed above, Sorrento cheeses contain no gluten ingredients. However, the company does not make any gluten-free claims or market their products as gluten-free.
While it should be safe, there is obviously no guarantee of cross-contact or how the product has been manufactured. However, this is mainly to cover their backs and you should have no trouble consuming these cheeses if you're gluten-intolerant or have celiac disease.
What Sorrento Cheese Gluten-Free Products Are On Offer?
Let's take a closer look at some of their most popular gluten-free cheeses Sorrento/Galbani has to offer.
One of the most popular choices of cheese is mozzarella. And Sorrento have a huge range of mozzarella cheeses that contain no gluten ingredients at all. These include:
Mozzarella Mini (ingredients are: milk, salt, non-animal rennet, acidity regulator, and citric acid)
Mozzarella Maxi (ingredients are: milk, salt, vegetarian coagulant, acidity regulator, and citric acid)
Galbani Mozzarella di Latte di Buffalo (ingredients are milk, salt and rennet)
Galbani Mozzarella Cucina (ingredients are milk, salt, non-animal rennet, acidity regulator and citric acid)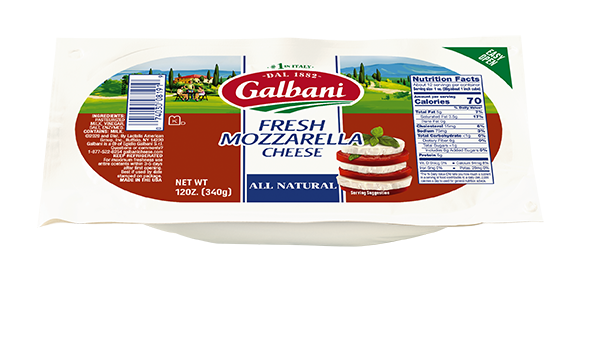 Ricotta Cheese
Another popular choice it's ricotta. It's creamy, spreadable, and utterly delicious (in my opinion anyway!). The Galbani Ricotta cheese is the only ricotta cheese on offer – but thankfully, is gluten-free. The ingredients are:
"pasteurized whey milk, milk cream, salt, acidity regulator, lactic acid, citric acid"
This means that their ricotta cheese is safe for consumption when following a gluten-free lifestyle.
Learn more about: 
How To Make Nacho Cheese Without Flour
Italian Hard Cheeses
Hard cheeses are some of my favorites to use in everyday cooking – and the good news? All of Sorrento's Italian hard cheeses are gluten-free! Their gluten-free hard cheeses include:
Parmigiano Reggiano (ingredients include: milk, salt and rennet)
Parmigiano Reggiano D.O.P (ingredients are: milk, salt and rennet)
Pecorino Romano D.O.P (ingredients are: milk, salt, rennet, and starter cultures)
Grana Padano D.O.P (ingredients are: milk, salt, rennet, preservative from egg)
Paesono Grated Dehydrated (ingredients are: milk, salt, rennet, preservative from egg)
Mascarpone
Mascarpone is a velvety soft cheese. It's creamy and smooth and is a great addition to dishes such as pasta. The Galbani Mascarpone cheese is the only style of mascarpone cheese on offer, but it is gluten-free. The ingredients are:
"milk, cream milk and acidity regulator"
The ingredients above mean that their cheese is gluten-free and safe for eating.
Galbani have a huge range of other cheeses I've not yet mentioned, which can all be found here. None of the products I looked at contained any gluten ingredients but always be sure to check the labels of anything you buy, as ingredients and manufacturing methods are subject to change at any given time.
There has been speculation that some cheese such as the ricotta and mozzarella may contain gluten, but the amounts are incredibly low and below the legal requirement of 20ppm. If the gluten ratio was above that, it would have to be disclosed as an allergen across their packaging.
Other Gluten-Free Cheeses
Sorrento/Galbani is not the only gluten-free cheese on offer. Some other gluten-free cheese brands you may enjoy are:
Biazzo
Organic Valley
Kerrygold
Litehouse (this brand is certified gluten-free, meaning their products are as safe as they come!)
If you can, always opt for products that are certified gluten-free. However, they are usually far more expensive, so that's much harder to achieve if you're living on a budget.
Conclusion
I hope this article has helped you to know which Sorrento cheese is gluten-free and safe for us to eat. Cheese is one of the few foods we can usually enjoy without worrying too much about gluten – hurrah!
What's your favorite style of cheese? I don't think you can beat a humble mature cheddar cheese! Do you enjoy Sorrento/Galbani cheeses? Are there any cheeses that didn't make the list, that you think are worthy of a place? Please feel free to leave any answers below. I would love to know your thoughts.
Read more about: Gluten Free Cheese Dip Brands
Hi, my name's Zoë. I'm 28 years old and live in London, UK. I work full time as a freelance writer and critic for West End theatre. Writing has been a passion of mine for as long as I can remember. I spend most of my free time at the theatre, or at conventions. I'm married to the love of my life, and live in a small apartment with my fur baby, Lillie. I run two of my own blogs: No Safer Place and Stage to Page: both of which have won awards. I also have a YouTube channel where I talk about all things stagey.