Last Updated on January 25, 2022
Today, we're going to be answering the question: is Crisco All Vegetable Shortening gluten-free? And taking a look at some gluten-free shortening that you may like to try. But first, let's take a look at what shortening actually is, and what its main uses are.
What Is Vegetable Shortening?
Vegetable shortening is an alternative to butter and margarine. Shortening often refers to any fat that is a solid at room temperature. As you can imagine, it's definitely not a healthy alternative to use when cooking and baking – but it is delicious.
Learn more about: 
Does Cool Whip Have Gluten? (& GF Recipes)
Is Crisco All Vegetable Shortening Gluten-Free?
One of the most famous brands of vegetable shortening is Crisco. You'll probably already be familiar with Crisco, but is it gluten-free? Crisco, All Vegetable Shortening contains the following ingredients:
Soybean Oil
Fully Hydrogenated Palm Oil
Palm Oil
Mono And Diglycerides
TBHQ And Citric Acid
As you can see from the list of ingredients, there are no gluten-containing ingredients. However, it's important to note that Crisco makes no gluten-free claims on any of its products. This means that their products are not routinely tested for gluten, and do not meet strict guidelines set by the FDA. There is a chance that cross-contact may take place.
Cross contact is when a product that does not contain any gluten comes into contact with a gluten-containing product, due to a range of factors. This can include transportation, storage, and preparation methods. However, many celiacs and gluten intolerant individuals are able to enjoy Crisco with no problems whatsoever. According to The Gluten Free Bar, the sticks are ranked 8/10, in terms of gluten-free safety.
Are Crisco Baking Sticks Gluten-Free?
The ingredients for the Crisco All Vegetable Baking Sticks are identical to those of the All Vegetable Shortening – therefore, the same answer applies. The baking sticks do not contain any gluten. Therefore, are considered safe to consume on a gluten-free diet.
The only difference in the baking sticks is the shape. Whereas the traditional shortening is perfect for spreading, the sticks are perfect for baking.
Is Butter Flavored Crisco Gluten-Free?
If you're looking for a rich, buttery flavor from your shortening, there is also butter flavor shortening available from Crisco! The ingredients in this product are:
Soybean Oil
Fully Hydrogenated Palm Oil
Palm Oil
Mono and Diglycerides
TBHQ and Citric Acid
Natural and Artificial Flavor
Beta-carotene (Pro-Vitamin A) Added for Color
As you can see from the ingredients, there are no gluten ingredients. Much the All Vegetable Shortening and Baking Sticks, the butter flavor is also safe for a gluten-free diet. However, again, Crisco makes no gluten-free claims on any of its products.
Crisco Allergy Information
While there isn't too much information on their allergens, the only allergen that appears on their ingredients labels is soy. Gluten does not appear in any of their products. If you want to read more information about the presence of gluten in their shortening, you can do so here.
What Is Crisco Used For?
Crisco shortening has 50% less saturated fat than butter, which makes it a healthier alternative to using butter or margarine in your baking and cooking. Another bonus is that it does not need to be in a fridge, and it's very easy to blend.
Shortening can be used in virtually all recipes to replace butter or margarine. However, it's ideal if you're baking pies or pastries. Especially as it's so easy to work with.
Gluten-Free Shortening
If you're looking for a different alternative to Crisco or perhaps an even healthier version – because let's be honest, it's still not exactly healthy, you may want to try one of these gluten-free suggestions.
Spectrum
While they do not make gluten-free claims, this is one of the purest shortenings you can buy. The only singular ingredient in this product is organic palm oil. Not only is it free from gluten, but it's also organic, non-GMO, and a Fairtrade product. This means it's suitable for a range of dietary lifestyles.
You'll be able to find this shortening in stores such as Walmart and Target, as well as online stores such as Amazon.
Nutiva
The ingredients in the Nutiva Organic Shortening are as follows:
Organic Palm Fruit Oil
Organic Unrefined Virgin Coconut Oil
Organic Unrefined Red Palm Oil
The only allergen that is on the label is coconut. As well as being gluten-free, they're organic, non-GMO, dairy-free, corn-free, lactose-free, and soy-free. It's quite expensive at $7.49 per 15oz tub, but it does come highly rated among the gluten-free community.
Market Pantry
A brand that is free from gluten that may surprise you is Market Pantry. That's right, Target's own brand! And it may be worth checking other grocery stores' own brands, as they are likely to be free from gluten too. However, it's always important to check the ingredients labels, as every shortening is different.
The ingredients in the all-vegetable shortening from Target are:
Soybean Oil
Hydrogenated Palm Oil
Palm Oil
Mono And Diglycerides
Citric Acid
As you can see, the ingredients are very similar to any vegetable shortening that you may buy. However, this one is great because it costs just $2.29 for a 16oz tub! This is the perfect solution if you're on a tight budget. It's also certified Kosher, which makes it perfect for those following other dietary lifestyles.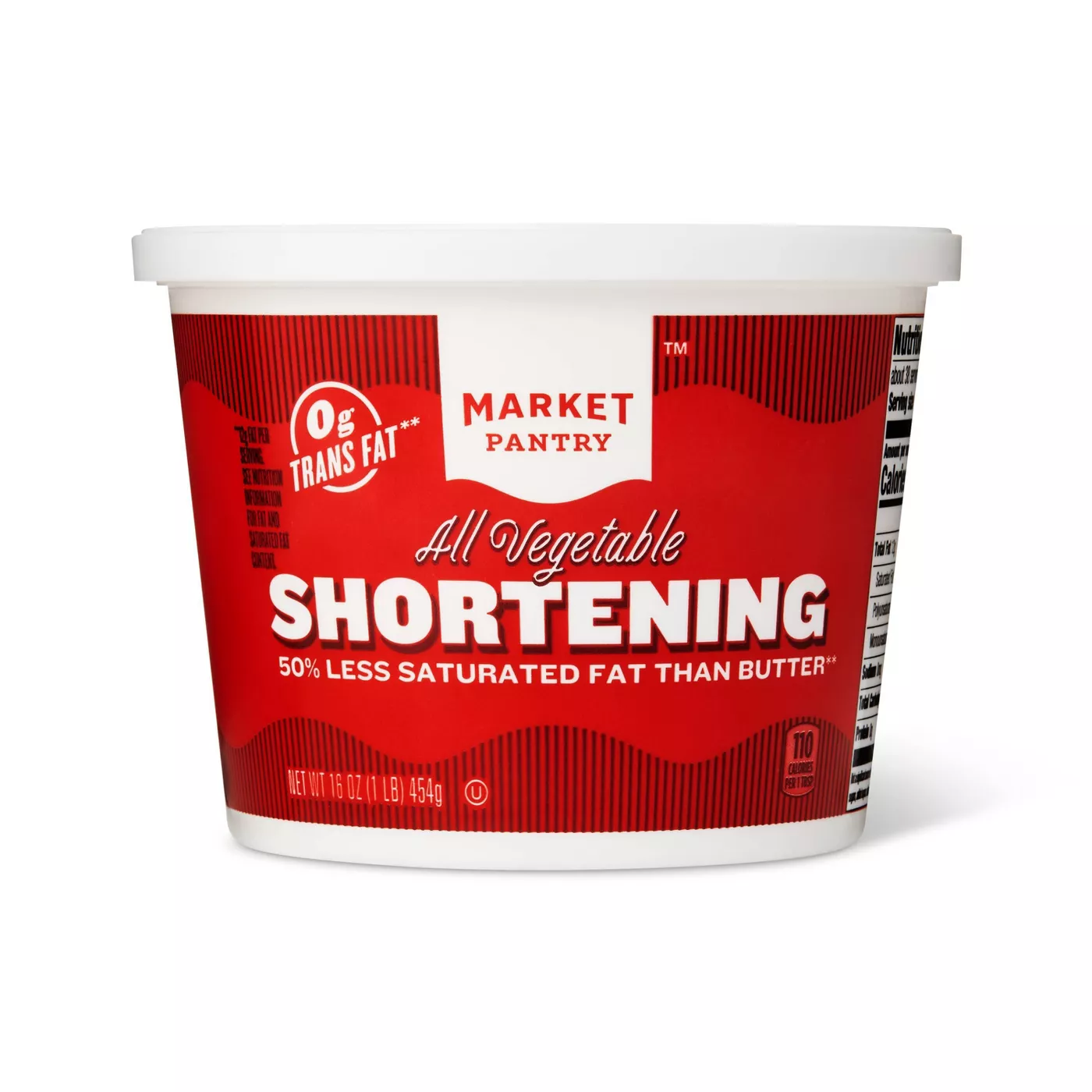 Conclusion
I hope this article has helped to answer the question: is Crisco All Vegetable shortening gluten-free? And give you an insight into other gluten-free brands you may like to try if Crisco isn't the right brand for you. Shortening is typically gluten-free, and easy to find without any gluten ingredients.
What do you use your shortening for? Do you know of any other gluten-free brands that didn't make the list? Please feel free to let me know in the comments below. Sharing is caring!
Read more about: Are Goldfish Crackers Gluten-Free? ( & GF Options)
Hi, my name's Zoë. I'm 28 years old and live in London, UK. I work full time as a freelance writer and critic for West End theatre. Writing has been a passion of mine for as long as I can remember. I spend most of my free time at the theatre, or at conventions. I'm married to the love of my life, and live in a small apartment with my fur baby, Lillie. I run two of my own blogs: No Safer Place and Stage to Page: both of which have won awards. I also have a YouTube channel where I talk about all things stagey.