Last Updated on April 18, 2022
Today, we're going to be looking at the gluten free sourdough bread Whole Foods supply. You may be surprised at the huge selection of gluten free bread that Whole Foods stock, including sourdough bread. But is sourdough bread always gluten free? Which gluten free sourdough bread brands are the best? Can you buy them at Whole Foods? We'll be covering it all in this article.
Gluten Free Sourdough Bread At Whole Foods
While there's a selection of gluten-free sourdough bread at Whole Foods, the two we'll be looking at today are most definitely my favorites. It's also worth noting that different stores may stock different products, so let me know if there's any I've missed off in the comments below.
Whole Foods is an amazing place to shop for gluten-free foods, especially foods like bread. So let's take a look at their offerings.
Simple Kneads
Simple Kneads has two types of gluten-free sourdough bread (although they do have other gluten-free bread types available too!). They offer their original Sourdough and Cinnamon and Raisin Sourdough.
Their original Sourdough bread has an incredible 4.9 out of 5 stars – so it's a great loaf to buy if you're looking for sourdough bread. The only ingredients in this bread are:
Water
Millet Flour*
Sorghum Flour*
Teff Flour*
Buckwheat Flour*
Quinoa Flour*
Psyllium Seed Husk Powder*
Expeller Pressed Sunflower Seed Oil*
Raisin Juice Concentrate*
Flax Meal*
Salt
Sunflower Seeds
*Organic products have been used
As you can see, no gluten in sight! They are a certified gluten-free brand that has its own dedicated facility. Not only that, but they're also free from the top 9 allergens, and plant-based; making this bread suitable for a range of dietary lifestyles.
You can find out more about their gluten-free sourdough here. It's worth noting that sourdough bread is always more expensive than standard bread, so you'll usually pay significantly more for a sourdough loaf.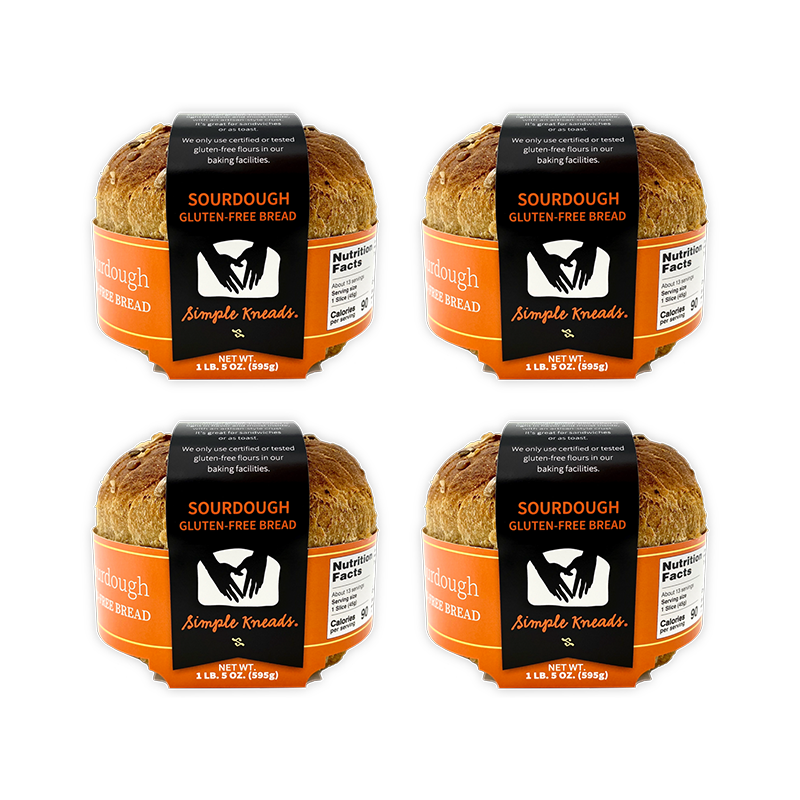 Cook's
Whole Foods also usually stock a brand of sourdough bread called Cook's. Cook's has an incredible four different varieties of sourdough, all of which are gluten-free. Their flavors include:
Original Sourdough
Rosemary Sourdough
Cinnamon Raisin Sourdough
French Sourdough
Their Original Sourdough bread is made using the following ingredients:
filtered water
organic brown rice flour
organic sorghum flour
organic tapioca flour
organic potato starch
organic evaporated cane sugar
sea salt
xanthan gum
organic guar gum
ascorbic acid
You can find out more about the various varieties of Cook's sourdough bread here.
Gluten Free Sourdough Brands: Our Top Picks
While this may not be available in all Whole Foods stores, these are some more brands you may like to try if you're looking for that perfect gluten-free sourdough loaf.
Bread SRSLY
Bread SRSLY is a certified gluten-free brand, as well as being allergen-friendly to many other top allergens, including gluten, wheat, egg, dairy, peanuts, tree nuts, soy, potatoes, sesame, refined sugar, and chickpeas – which is great if you have several allergies.
Not only are they good for an array of allergies, but they also have a huge selection of gluten-free sourdough bread varieties. Their flavors include:
Classic Gluten Free Sourdough Loaf
Seeded Gluten Free Sourdough Loaf
Cinnamon Raisin Gluten Free Sourdough Loaf
Gluten Free Sourdough Sandwich Rolls
Gum Free, Rice Free Sourdough
They come in a range of different sizes and shapes.
Ener-G
Ener-G is another certified gluten-free brand, which is home to a whole range of bread products, including sourdough bread. They have two offerings available:
Ener-G Organic Sourdough Loaf
Ener-G Select Sourdough White Bread
Prices range from $8-9 per loaf. However, if you buy in bulk, you'll receive a good discount.
New Grains
All of New Grains' products are gluten-free, and they have an incredible range of bakery products. Their gluten-free sourdough is crisp on the outside, but fluffy on the inside – and once you taste it, it's easy to see why it's so popular. One loaf of their gluten-free sourdough bread costs $9.75, so this may be one that you only treat yourself too every so often!
From sweet treats to bagels to pizza crusts, New Grains is a great place to start if you're looking for some gluten-free staples in your pantry.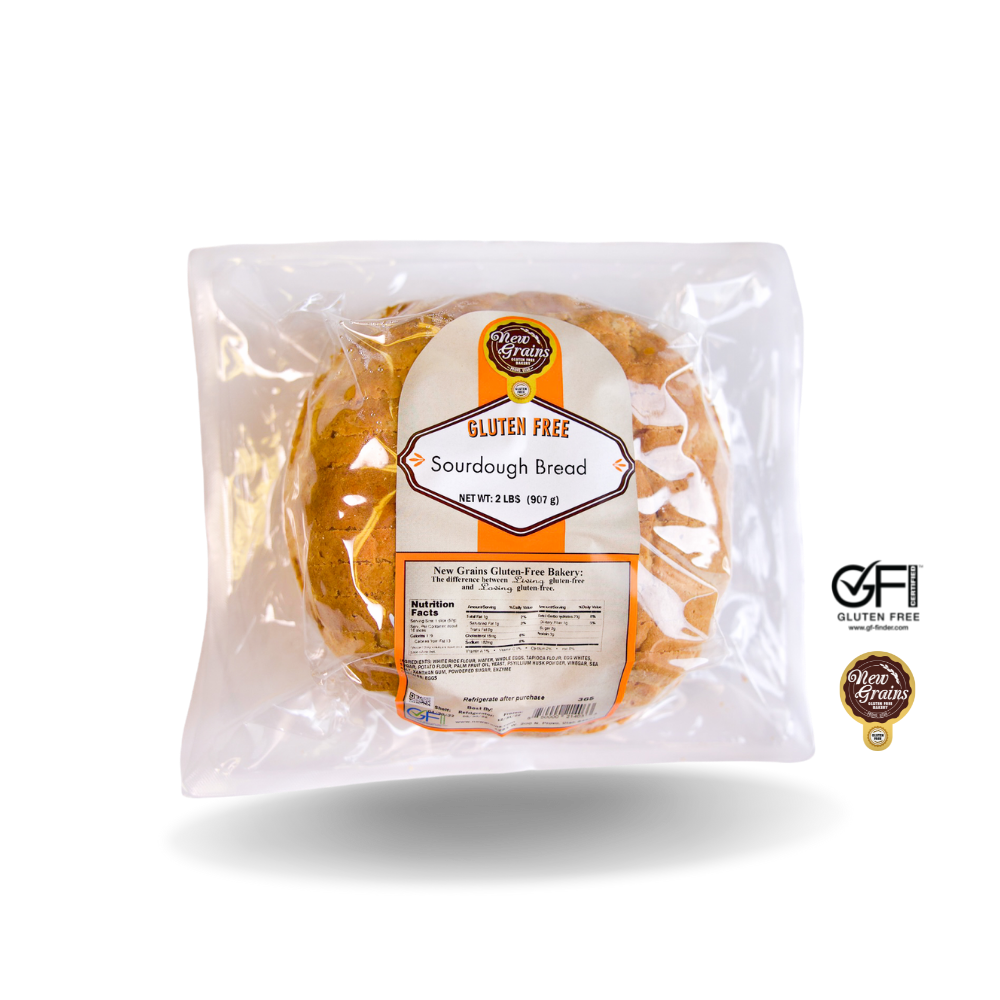 Read more about: Does Phyllo Dough Have Gluten?
Conclusion
I hope this article has helped you to become more familiar with the gluten-free sourdough bread brands you'll find at Whole Foods. It's always worth requesting more gluten-free products in your local grocery stores, as the more demand they get for the products, the more supply there will be.
Do you know of any other gluten-free sourdough bread brands that didn't make the list? If so, please feel free to let me know in the comments below. Sharing is caring!
FAQs
Does Whole Foods Have Gluten-Free Sourdough Bread?
Absolutely! Whole Foods is a great place for picking up gluten free food products, and bread being among one of the most popular. They often stock brands such as Cook's and Simple Kneads - which are both completely gluten free brands.
What Brands of Sourdough Bread are Gluten Free?
There are several brands that are suitable to enjoy when following a gluten free lifestyle. Alongside Simple Kneads and Cook's, some other popular brands that are certified gluten free are Bread SRSLY, New Grains and Ener-G. We'll be taking a closer look at those brands in this post.
Is Most Sourdough Bread Gluten-Free?
Absolutely not. While sourdough bread is known to contain less gluten than traditional bread, it still does contain gluten and is not naturally gluten free. But there are plenty of gluten free sourdough breads available for us to try!
Where to Buy Gluten Free Sourdough Bread?
Most grocery stores such as Walmart will stock gluten free sourdough bread, as well as some health stores and stores such as Whole Foods. Most brands also have their products to buy directly online, where you'll usually get free shipping and a discount on bulk buying too - so it's definitely worth taking a look if there's a particular sourdough bread you enjoy.
Hi, my name's Zoë. I'm 28 years old and live in London, UK. I work full time as a freelance writer and critic for West End theatre. Writing has been a passion of mine for as long as I can remember. I spend most of my free time at the theatre, or at conventions. I'm married to the love of my life, and live in a small apartment with my fur baby, Lillie. I run two of my own blogs: No Safer Place and Stage to Page: both of which have won awards. I also have a YouTube channel where I talk about all things stagey.