Last Updated on January 11, 2022
Today, we're going to be answering the question: do soft pretzels have dairy? Who doesn't love a salty, soft pretzel? The bigger the better! They're absolutely delicious and a favorite across the US. However, are they safe to eat when lactose intolerant, or following a dairy-free diet? Let's take a closer look.
Ingredients In Soft Pretzels
Soft pretzels can be made with a varying amount of ingredients. Some of the most common ingredients you may find in a soft pretzel are:
Salt
Butter
Sugar
Plain Flour
Egg
Yeast
Baking Soda
Sesame Seeds
Are Soft Pretzels Dairy Free?
The answer to this question isn't black and white. The answer is: sometimes. As you can see from the list of common ingredients, butter can be used when making soft pretzels. However, it's easy to make soft pretzels without butter, and many companies will add butter if you want it, rather than using it in the mixture. This makes it much easier to avoid. We'll be looking at dairy-free soft pretzels recipes and brands to buy from later in the article.
Do Soft Pretzels Have Egg?
Despite contrary belief, eggs are not part of the dairy family. Meaning that if you're lactose intolerant, or dairy-free – you'll still be able to eat eggs. Which is lucky if you like soft pretzels – as many recipes do contain eggs, and it's one of the most common ingredients.
However, some soft pretzels recipes do not contain eggs (usually vegan recipes), so if you're unsure on a store's soft pretzel ingredients – just ask. They're often more than happy to help in any way they can.
Are Soft Pretzels Gluten-Free?
Unfortunately, most soft pretzels are not gluten-free. Traditional pretzels are made using wheat flour. Wheat is one of the cereal grains that is not safe to consume when following a gluten-free diet. Other grains to avoid are rye, barley and oats (unless GF oats). Frustratingly, there aren't many GF soft pretzels options available. Let's keep our fingers crossed for the future!
Companies such as Philly Pretzel Company have stated that they've tried to make gluten-free pretzels, but aren't able to develop one that meets gluten-free standards.
Read more about: Are All Pretzels Gluten Free?
How Long Do Soft Pretzels Last?
If you're looking to make your own soft pretzels, or store any leftovers you may have – you most definitely can! When stored in an airtight container, pretzels will remain fresh for around 2-3 days at room temperature. If you're looking to freeze them, they'll be okay for around one month. And to reheat them, you will need to place in an oven for around 10-12 minutes (if frozen) at 350°F.
If your soft pretzel is hard or has a sour smell coming from it – do not eat. Your soft pretzel has gone bad.
Dairy-Free Soft Pretzels
Typical ingredients that you'll find it hard to make pretzels without are: sugar, yeast, salt, and flour. None of which are dairy, which is great if you're looking to fulfill your soft pretzel craving. Whether you're looking for a snack at the mall or improving your baking skills at home – we've got you covered!
Most malls have soft pretzels available, but are any dairy-free? Let's take a look.
Read more about Is Half and Half Gluten Free? (GF Brands)
You can order Auntie Anne's without butter, which means it's easy to make this soft pretzel dairy-free. However, on their website, it states that, "may include trace, or intentional amounts of milk, eggs, wheat, soy, peanuts, and tree nuts". This means that without butter, there are no dairy products present in the pretzel, but they can not guarantee cross-contact hasn't occurred. This is when a dairy-free product, comes into contact with a dairy-containing product. This means the final product may not be dairy-free.
When researching soft pretzels, Philly Pretzel was a recurring option that came up as dairy-free. However, that is not the case and you should most definitely avoid if you are lactose intolerant. Their pretzel dough ingredients quite clearly state that one of the products is "whey (milk)" and their allergen statement says that:
"Please be aware that our pretzels contain wheat and whey (a dairy by-product)"
We do not recommend eating Philly Pretzels when dairy-free.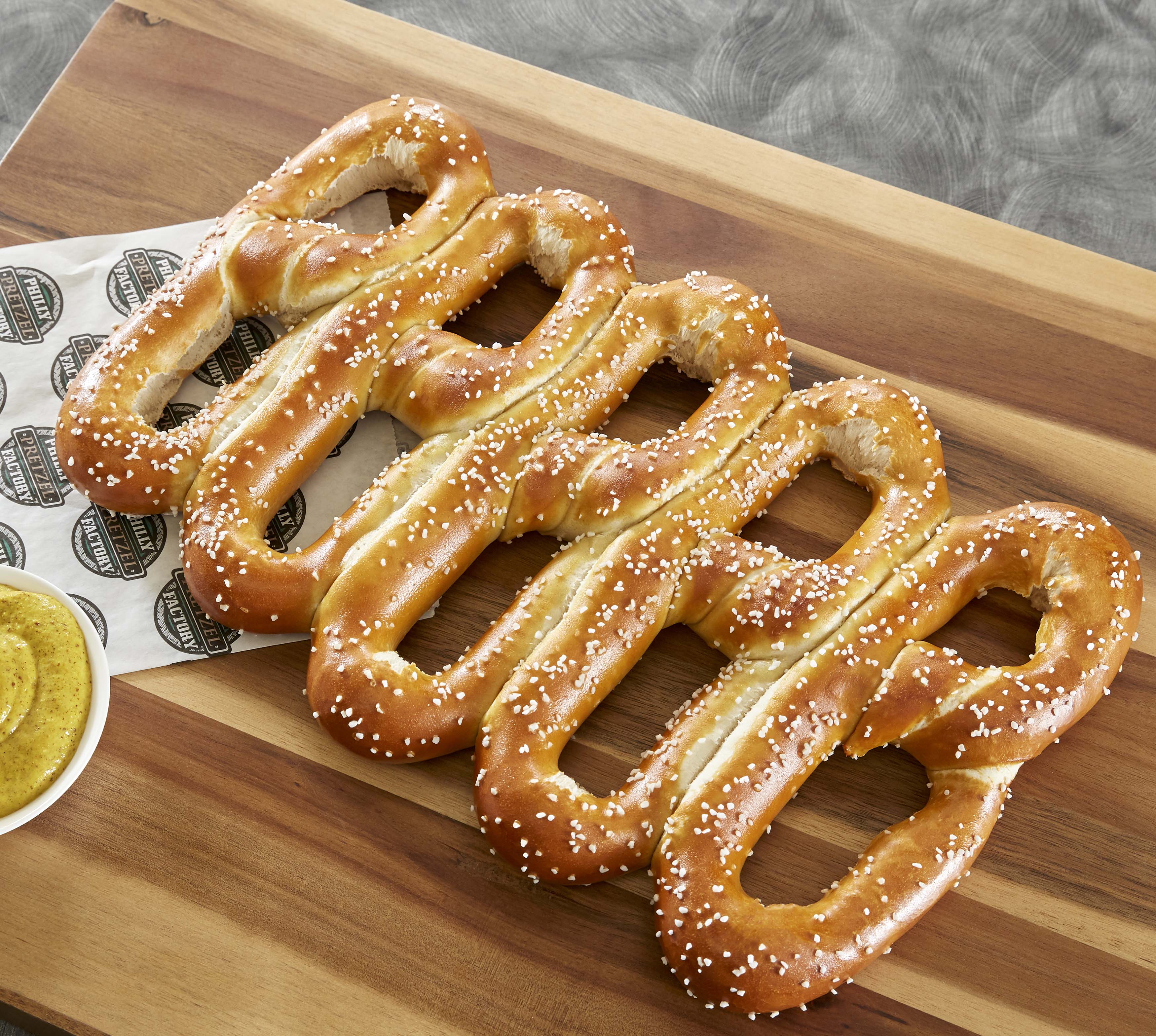 While it's quite difficult to find allergen and nutritional information for Mr. Pretzel, I Hate You Milk state that Mr. Pretzel pretzels are lactose, dairy-free, and vegan.
DF Soft Pretzels Recipe
You may wish to make your own dairy-free soft pretzels. And while it may be quite time-consuming, it's easier than you may think! And a lot of fun, especially if you like baking. The ingredients you'll need for The Spruce Eats, Homemade Vegan Soft Pretzels are:
Active Dry Yeast
Warm Water
Sugar
Salt
All-Purpose Flour
Baking Soda
Coarse Salt
Mustard (optional)
It may take a while to practice and get the shape right, but does anything beat a fresh soft pretzel? Warm and fresh out of the oven. Yummy!
The recipe above can also be adapted to suit a gluten-free lifestyle. If you use gluten-free all-purpose flour, the remainder of the ingredients should already be gluten-free (be sure to check the labels before purchasing) – and the recipe will be just as delicious!
Conclusion
I hope this article has helped to answer the question, do soft pretzels have dairy? It's relatively easy to find dairy-free pretzel options – and you won't even be able to notice the difference! If you try making your own, I would love to see how they turn out (and how they taste!).
Are there any dairy-free soft pretzels that didn't make the list, that you think are worth mentioning? Or maybe you have your own dairy-free soft pretzel recipe? If so, please feel free to let me know in the comments below. Sharing is caring!
Read more about: 
Gluten Free Bread Brands At Walmart
Hi, my name's Zoë. I'm 28 years old and live in London, UK. I work full time as a freelance writer and critic for West End theatre. Writing has been a passion of mine for as long as I can remember. I spend most of my free time at the theatre, or at conventions. I'm married to the love of my life, and live in a small apartment with my fur baby, Lillie. I run two of my own blogs: No Safer Place and Stage to Page: both of which have won awards. I also have a YouTube channel where I talk about all things stagey.