Last Updated on November 30, 2021
Today, we're going to be answering the question: do sesame seeds have gluten and taking a look at some gluten-free sesame seed recipes. Seeds and nuts are the perfect way to add some balance and nutrition to your diet. Especially when we can not eat cereal grains. But are sesame seeds always gluten-free? Let's take a look.
What Is Gluten?
Gluten is a protein you will find present in cereal grains. The cereal grains you'll need to avoid when following a gluten-free diet are wheat, rye, barley, and oats (unless certified GF oats). Unfortunately, wheat is one of the most common grains in the world and is used in many foods such as pizza, bread, and pasta. It gives those foods their elastic texture and is inexpensive in comparison to other grains.
This is why it can be so overwhelming when you first receive your diagnosis. It may take some getting used to, but it's easier to live a gluten-free lifestyle than you may think. And many people advocate that the gluten-free diet is healthier than most and comes with many benefits!
Is Sesame Gluten-Free?
If you like sesame seeds, I have some good news – they're naturally gluten-free! They're incredibly tasty and flavorful, great as a snack, or as a sprinkling on a dish, and extremely good for you.
However, they may not always be gluten-free. This is not because they will contain any gluten ingredients (it's just a seed, after all!). This is due to how they may have been stored, packaged, or transported. If they have come into contact with any other grains such as wheat, rye, or barley – the end product may not be gluten-free. This is highly unlikely, however, if you're extremely sensitive to gluten or are celiac, you may want to opt for seeds that carry a gluten-free label.
Gluten-Free Sesame Seed
Buying products that are certified gluten-free is the safest way to enjoy any food. This is because the product has been through rigorous testing to ensure its gluten-free status. And has met strict guidelines set by the FDA. That being said, here are some of the best gluten-free sesame seeds, that carry a gluten-free certification.
Nuts.Com is a great place to buy a range of gluten-free products, including sesame seeds. Many of their products carry a gluten-free certification label – their sesame seeds are one of them! It's $3.99 for a 1lb bag and gets cheaper the more you buy! They're raw, all-natural, and go great in stir-fries and salads for that extra bit of crunch.
It's worth noting that the sesame seeds are packaged in a facility that also handles peanuts, tree nuts, soy, and milk products. However, if you're just gluten-free – you can enjoy these with ease!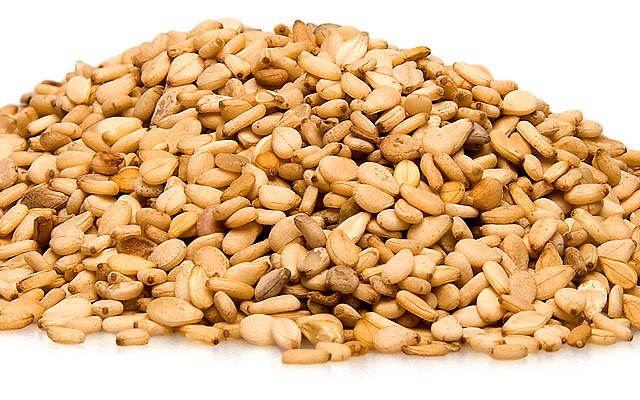 Artimondo
Artimondo is a UK brand that also stocks a selection of gluten-free products. Their Gluten-Free Sesame Seeds are not just gluten-free – but completely allergen-free! This means that they're suitable for a range of dietary lifestyles. They cost £4.48 for a 250g, which is a heftier price tag than Nuts.Com, but they do come highly recommended.
Sesame Seeds Health Benefits
There are many health benefits associated with the consumption of sesame seeds. They're a great source of protein, vitamins, antioxidants, and minerals including calcium, zinc, and manganese. Adding sesame seeds to your diet can help your body in a variety of ways, including:
Lowering your cholesterol
Fighting infection
Good source of fiber
May help lower blood pressure
May reduce inflammation
Good source of B Vitamins
May help aid your immune system
As you can see, sesame seeds are definitely worth adding to your diet! It's so easy to do too.
Sesame Seeds Gluten-Free Recipe
If you're looking to find an easy way to include sesame seeds into your diet, you should definitely try this 3-Ingredient Sesame Seed Crunch Candy from Strength and Sunshine. The only ingredients you'll need for this gluten-free recipe are:
1 Cup Raw Sesame Seeds
1 Cup Honey (or vegan alternative)
1/2 Cup Erythritol
Here's a step-by-step guide to making these delicious treats!
Grease a pot and bring the honey and erythritol to the boil for around 5 minutes.
Toast the sesame seeds in a separate pan until golden brown.
Once the seeds are toasted, add them to the boiling honey and erythritol and boil for around 10 minutes. You will need to stir occasionally.
Pour the mixture into a thin layer onto a lined baking sheet.
Leave to cool and then break into pieces, or the shape you desire.
And your snacks are ready! It really is that easy.
Adding Sesame Seeds To Your Diet
If you're struggling to add sesame seeds to your diet, or looking for a more subtle way. Why not try adding sesame seeds to these dishes?
Sticky Sesame Prawns
Sesame Seared Salmon
Sesame Roasted Kale
Pretzels with Sesame Seeds (GF, of course!)
Bread with Sesame Seeds (again, GF!)
Asian Salad
Marinated Cucumber with Sesame Seeds
Sesame Chicken
Sesame Noodles
Green Beans with Sesame
There's a heap of ways to enjoy sesame seeds – these are just a few! Asian food often has sesame seeds and is absolutely delicious.
Conclusion
I hope this article has helped to answer the question: do sesame seeds have gluten? And offered a range of ways to incorporate sesame seeds into your diet with little effort. I would highly recommend considering adding sesame seeds to your diet; not just for the health benefits – but they're absolutely delicious too!
Do you have any recipes you'd like to share that include sesame seeds? I would love to hear some more inspiration from you all. Or if you know of any other certified gluten-free sesame seeds, please feel free to share them in the comments below. Sharing is caring!
Read more about: Are Quaker Old Fashioned Oats Gluten-Free? (& GF Oatmeal)
Hi, my name's Zoë. I'm 28 years old and live in London, UK. I work full time as a freelance writer and critic for West End theatre. Writing has been a passion of mine for as long as I can remember. I spend most of my free time at the theatre, or at conventions. I'm married to the love of my life, and live in a small apartment with my fur baby, Lillie. I run two of my own blogs: No Safer Place and Stage to Page: both of which have won awards. I also have a YouTube channel where I talk about all things stagey.