Last Updated on March 31, 2022
Today, we're going to be answering the question: do corn flakes have gluten? And taking a look at the best gluten-free corn flakes on offer, as well as other popular gluten-free cereals. Cornflakes are the perfect cereal to start your day off with. It's one of the most popular breakfast cereals and it's not hard to see why. They go perfectly with milk, and they have just the right amount of crunch. But are they gluten-free? Let's take a closer look.
Ingredients In Cornflakes
Kellogg's is no doubt the most popular brand of cornflakes available – but are they gluten-free? The ingredients in cornflakes are:
milled corn
sugar
malt flavor
salt
vitamins and minerals
From the list of ingredients, you may be unable to tell if this product is gluten-free. Unfortunately, Kellogg's Cornflakes are not gluten-free. Not only are we unsure if the milled corn has been harvested alongside other gluten grains (such as wheat or barley), it also contains gluten! That's right, the mysterious "malt flavor", is more often than not derived from barley. And barley is definitely not gluten-free. It's best to avoid Kellogg's Cornflakes and opt for products that carry a gluten-free label – don't worry, there are plenty of gluten-free options available!
Gluten Free Cereal List
Gluten-free cereal is one of the easier foods to purchase when following a gluten-free diet. Let's take a look at some of the most popular gluten-free corn flakes brands, as well as other gluten-free cereals you may like to try.
Gluten Free Corn Flakes
GoFree Corn Flakes
GoFree is my personal go-to choice for cornflakes. To me, they taste even better than original cornflakes – especially the honey flakes! They're reasonably inexpensive in the UK, at around £2 per box. They are made from maize – and just like Kellogg's, also come with additional vitamins and minerals.
Nature's Path Corn Flakes
Nature's Path is an organic choice. And what's great about them, is that they're made using fruit juice – instead of sugar. The texture may be different from what you remember, but it's a far healthier option. Nature's Path Corn Flakes are certified gluten-free. This means that their products go through extensive testing to ensure that they're gluten-free, and meet strict guidelines set by the FDA.
The ingredients in this product are:
cornmeal and/or yellow cornflour
grape and/or pear juice concentrate
sea salt
It's worth mentioning that this cereal is made in a facility that also handles peanuts, tree nuts, and soy.
Erewhon Corn Flakes
Another organic and certified gluten-free option is Erewhon corn flakes. Not only gluten-free but also sugar-free and fat-free – meaning it's suitable for a range of dietary lifestyles. The only two ingredients in this product are milled corn and sea salt. While this may not be the sweetest choice – it's definitely another of the healthier alternatives.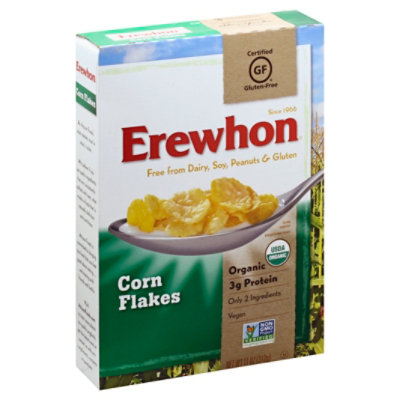 Other Gluten Free Cereals
If you're looking for a gluten-free cereal that isn't cornflakes – don't worry, there are plenty of varieties to choose from, all from popular brands.
Kellogg's: Kashi Go Keto-friendly cereals: Dark Cocoa and Cinnamon Vanilla, Bear Naked Grain Free Granolas: Almond Coconut, Dark Chocolate Almond, Maple Cinnamon, Bear Naked Granolas: Cacao & Cashew Butter and Toasted Coconut Almond
Read more about: Are Kellogg's Rice Krispies Treats Gluten-Free?
General Mills: Cinnamon Chex, Peanut Butter Chex, Rice Chex, Corn Chex, Chocolate Chex, Honey Nut Chex, and Blueberry Chex
Post's: Fruity Pebbles, Cocoa Pebbles, Cinnamon Pebbles, Honey Bunches of Oats Chocolate and Malt-O-Meal® Brand: Fruity Dyno-Bites, Cocoa Dyno-Bites, Crispy Rice
Nature's Path (Summer Berries Granola, Gorilla Munch, Fruit and Nut Granola, Crunchy Maple Sunrise, Blueberry Pecan Granola)
Bob's Red Mill
 (Gluten-Free Oats, Gluten-Free Muesli, Cranberry Almond Homestyle Granola, Coconut Spice Homestyle Granola, Maple Sea Salt Homestyle Granola, Lemon Blueberry Homestyle Granola)
GoFree by Nestle (Corn Flakes, Honey Flakes, Rice Pops, Coco Rice)
Erin Baker's (Coconut Chia, Granola Double Chocolate, Granola Chocolate Coconut Crunch, Granola Pumpkin Seed and Flax, Granola Honey Oat Clusters, Granola Peanut Butter, Granola Fruit, and Nut)
This list is by no means exhaustive and your local grocery store will probably stock their own brands of gluten-free cereal. It's definitely worth checking out the ingredients of all cereals, as some may surprise you that don't contain any gluten ingredients or even carry a gluten-free label.
Conclusion
I hope this article has helped to answer the question: do corn flakes have gluten? And helped you to identify some of the top gluten-free brands that are available to us when following a gluten-free lifestyle. Be super vigilant when purchasing cereal, and watch out for ingredients such as wheat starch, malt syrup, and modified food starch – as these are likely to contain gluten.
What's your favorite cereal? Did your favorite gluten-free choice make the list? If not, please feel free to let me know in the comments below. I love trying new cereals! Sharing is caring.
Read more about: Are Froot Loops Gluten-Free? (Gluten-Free Cereal List)
FAQs
Can Gluten Intolerant People Eat Cornflakes?
More often than not, cornflakes will contain gluten in some way. However, it's super easy to find gluten free cornflakes! There are plenty of gluten free options available for us and they're usually easily accessible in your local grocery store, or online. 
What Corn Cereals are Gluten-Free?
Gluten free cereal is more often than not made with corn as it's the perfect substitute for wheat, or other gluten ingredients. Some popular corn cereals are Corn Chex by Chex, Corn Flakes by Nature's Path and Corn Flakes by GoFree by Nestle. We'll be taking a closer look at this cereals in this post. 
Where to Buy Gluten Free Corn Flakes?
You may be struggling to know where to buy gluten free cereal from. As corn flakes is one of the most popular breakfast cereals, you can usually find a gluten free alternative in your local grocery stores. Stores such as Walmart and Target are perfect for picking up GF cornflakes. There's also a lot of smaller brands that have online stores - usually with some irresistible offers! 
Hi, my name's Zoë. I'm 28 years old and live in London, UK. I work full time as a freelance writer and critic for West End theatre. Writing has been a passion of mine for as long as I can remember. I spend most of my free time at the theatre, or at conventions. I'm married to the love of my life, and live in a small apartment with my fur baby, Lillie. I run two of my own blogs: No Safer Place and Stage to Page: both of which have won awards. I also have a YouTube channel where I talk about all things stagey.