Last Updated on April 27, 2022
Today, we're going to be answering the question: are brats gluten free? And taking a look at the best gluten-free brats brands, as well as the best gluten-free sausage brands. With summer fast approaching, it's likely you'll be wanting to enjoy some brats or sausages (I know I certainly will). But are brats gluten-free? And which brands of sausages are safe for those following a gluten-free diet? Let's take a closer look.
What Are Brats?
Brats is simply a shortened term for bratwurst. Bratwurst is a German type of sausage, which is very similar to the "regular" sausages we know and love. Bratwurst is actually a type of link sausage that's usually seasoned with spices like ginger and is usually made from pork; although it can also be made from veal or beef.
Learn more about: Sausage Gravy With Almond Milk
Ingredients In Brats
The ingredients in brats can vary massively, depending on where you purchase them, and the brand you're buying. Typically, the ingredients in brats are:
meat (pork, beef, or veal)
salt
white pepper
nutmeg
lemon peel
garlic
caraway
Nutritional Information Of Brats
You may be curious to know the nutritional value of a bratwurst. Each German sausage usually contains the following:
Calories: 196
Fat: 17g
Saturated: 4g
Cholesterol: 51.5mg
Sodium: 560mg
Potassium: 185mg
Carbs: 1.3g
Protein: 8g
Are Brats Gluten Free?
Typically, brats and bratwurst sausage are considered gluten-free. However, it all depends on the flavorings and seasonings that have been added. Whether it appears as though the brats are gluten-free or not, it's always best to check, as ingredients are subject to change at any given time.
While not all brats will be gluten-free, it's super easy to find gluten-free options.
Gluten Free Brats
When it comes to gluten-free brats, there is one brand that immediately springs to mind, and they have a huge selection of gluten-free options: Johnsonville. Johnsonville states on their website that besides "our meatballs, fresh and smoked beer brats and Teriyaki flame-grilled chicken", everything else is gluten-free.
Their gluten-free options include:
hatch green chile links
firecracker brats
queso with pepper Jack cheese brats
blackened cajun and cheddar
sweet and spicy bbq
cheddar brats
jalapeno and cheddar brats
Irish O'Garlic links
hot 'n' spicy brats
grilling chorizo
cheddar cheese and bacon sausage
You can find their full range of brats here.
Gluten Free Sausage Brands
There are plenty of gluten-free sausage brands. It's always opt for brands that carry a gluten-free label where possible. The brands we'll be taking a look at today all carry a gluten-free label or are certified gluten-free. While most unflavored sausages do not contain gluten, it's always best to opt for gluten-free, so you can be sure it's not at risk of being a victim of cross-contact.
Aidells
If you're looking for sausages that are slightly more exciting, I would highly recommend Aidells. They offer breakfast sausage patties, as well as dinner chicken sausages. All of their sausage products are currently gluten-free – although always be best to check for the most up-to-date ingredients.
Their current gluten-free sausages include:
artichoke and garlic
bacon, mushroom, and swiss cheese
cajun style andouille
chicken and apple
chorizo
habanero and green chile
habanero with pepper Jack cheese
Italian style with mozzarella cheese
mango
organic cajun style andouille
organic chicken and apple
spinach and feta (organic)
pineapple and bacon
portobello and swiss cheese
roasted garlic and gruyere cheese
spicy mango with jalapeno
spinach and feta
Applegate Farms
Applegate Farms is a well-known brand and all of its sausages are gluten-free. Although, it's worth mentioning that some of their other products contain gluten, so always check before making any purchases.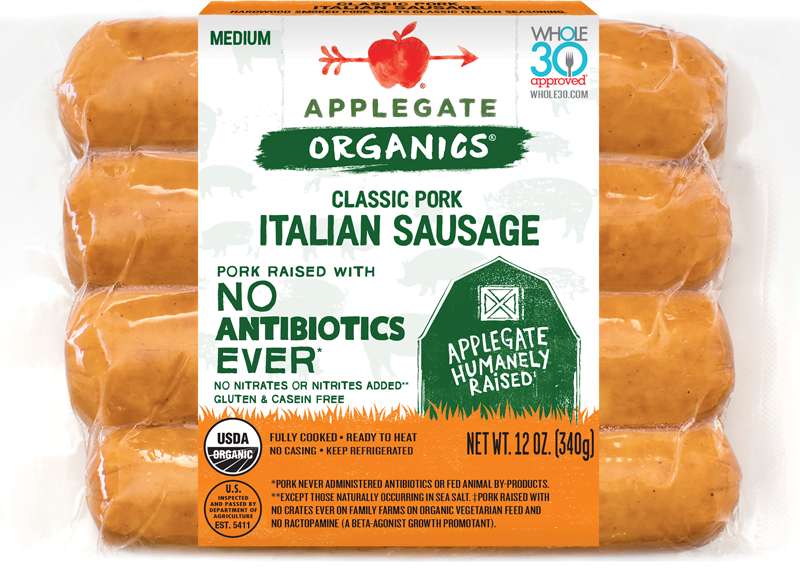 Wellshire Farms
Wellshire Farms is well known for its allergen-friendly foods and its all-natural meats. Their sausages are considered gluten-free. And what's great about Wellshire Farms is that they have an allergens search which enables you to mark off which allergies you have and lists which products of theirs you can enjoy. It's super easy to use and really helpful; I wish other companies took note of this!
Conclusion
I hope this post has helped to answer the question: are brats gluten-free? While sausages can contain gluten, it's easy to find gluten-free sausages. Something I've found is that the better quality the meat, the less chance there is of them containing gluten. They're usually slightly more expensive, but they definitely taste better!
Do you know of any other brats or sausage brands that didn't make the list today? Also, if you know of any gluten-free beer brats, I would love to know. If so, please feel free to let me know in the comments below. Sharing is caring!
Read more about: 
is Premio sausage gluten-free?
FAQs
Which Brats are Gluten-Free?
Johnsonville are without a doubt, the most popular brats brand within the US. Besides their beer brats, all of their brats are considered gluten free - and even carry a gluten free label. Whether you're looking for a traditional brat, or something a little more adventurous like sweet and spicy BBQ, there's a huge selection of options available. 
Are Brats Cooked in Beer Gluten-Free?
No. Unless brats are cooked in gluten free beer, they will not be gluten free. For example, Johnsonville have a range of beer brats available, all of which are not suitable for those following a gluten free lifestyle. If this is something you're looking for, it may be best to try making your own at home with gluten free beer of your choice.
Can Celiacs Eat Sausages?
Of course! There are plenty of sausages available that carry a gluten free label. However, there are a few brands that use wheat as an ingredient, as well as flavoring with gluten containing products. As long as you're checking ingredients labels, it's super easy to find sausages to enjoy whether you're celiac or gluten intolerant.
Hi, my name's Zoë. I'm 28 years old and live in London, UK. I work full time as a freelance writer and critic for West End theatre. Writing has been a passion of mine for as long as I can remember. I spend most of my free time at the theatre, or at conventions. I'm married to the love of my life, and live in a small apartment with my fur baby, Lillie. I run two of my own blogs: No Safer Place and Stage to Page: both of which have won awards. I also have a YouTube channel where I talk about all things stagey.